Backcountry Camping - Getting a Permit
A Backcountry Camping Permit is required for all backcountry camping.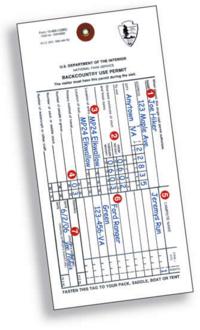 The permit can be obtained at visitor contact stations during business hours. Permits for Appalachian Trail long-distance hikers are available by self-registration on the Trail near Shenandoah National Park entry points.
If you are planning your visit well in advance (allow two full weeks), permits are also available by mail from Park Headquarters. If you wish to have a permit mailed to you, request it here.
You will be sent a permit and directions for filling it out. You will be responsible for bringing the permit with you to the park and depositing copies in the self-registration box at each entrance (see map link below) or mailing them in. The permit should be affixed to your pack or tent in full view.
Remember that you should have your camp set up before dark in order to avoid damaging the park resources or injuring yourself. At the park, permits will be issued only between the hours of sunrise and one hour before sunset.
Last updated: January 26, 2017