Alerts and Closures
From time to time, circumstances may necessitate the closing of trails or other actions to ensure visitor and resource safety. As part of your planning, visit this page to get special alerts and information. If you are a frequent visitor, you may want to bookmark this page. Follow us on Instagram, Twitter, and Facebook for more information.

We will not be updating the alerts page with news concerning our response to COVID-19. All updates concerning phased openings, closures, and further COVID-19 news can be found on our current conditions page.

This page was last updated September 3, 2020.
---
BOUNDARY ACCESS TO POCOSIN AREA AT ROUTE 643 (GREENE COUNTY) (1/22/21)
An ongoing VDOT road project has made the Entry Run Trailhead at the boundary inaccessible temporarily (Central District, east side at Rt. 643). There is neither vehicle access nor parking available, and the route has been closed to all users outside the boundary.

LINK TRAIL ON CEDAR RUN-WHITEOAK LOOP August 25, 2020
A huge tree has uprooted on the Link Trail, taking part of the trail with it. We are on it, but the Link Trail is closed for now. You can still do the Cedar Run-Whiteoak Loop, but you'll have to go on down to the intersection. See the closed trail on the Link Trail closure map.
RIP RAP AND POCOSIN BOUNDARY ACCESS (July 20, 2020)
We are working to resolve issues with boundary access to Rip Rap and Pocosin. Until then, we recommend you use the Skyline Drive trailheads to hike these areas.
GENERAL TRAIL MAINTENANCE NOTICE (July 1, 2020)
We've got some catching up to do so please bear with us. There may be overgrown vegetation as well as downed trees on many trails. And drainage may not be its usual during times of heavy rain. Be extra vigilant in avoiding poison ivy and checking for ticks--they are wicked this season! And be prepared to alter your route if you encounter difficulties. If you are particularly concerned about overgrown vegetation, look for hikes along our administrative/fire roads.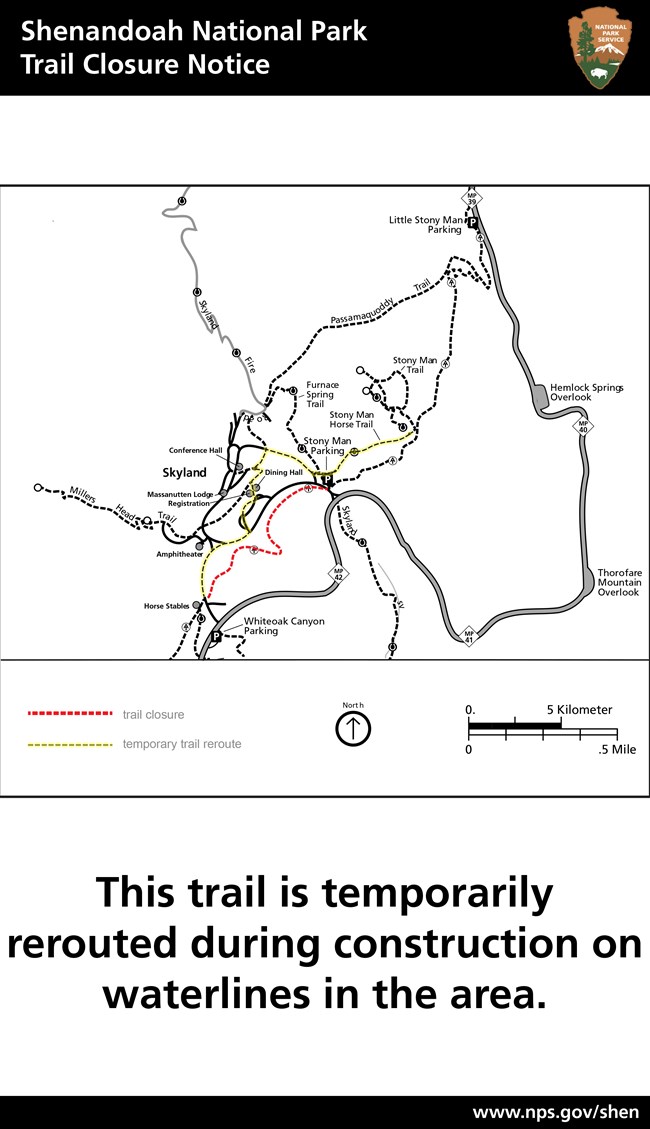 SKYLAND AREA TRAIL REROUTE
(July 1, 2020)
Please note the following reroute.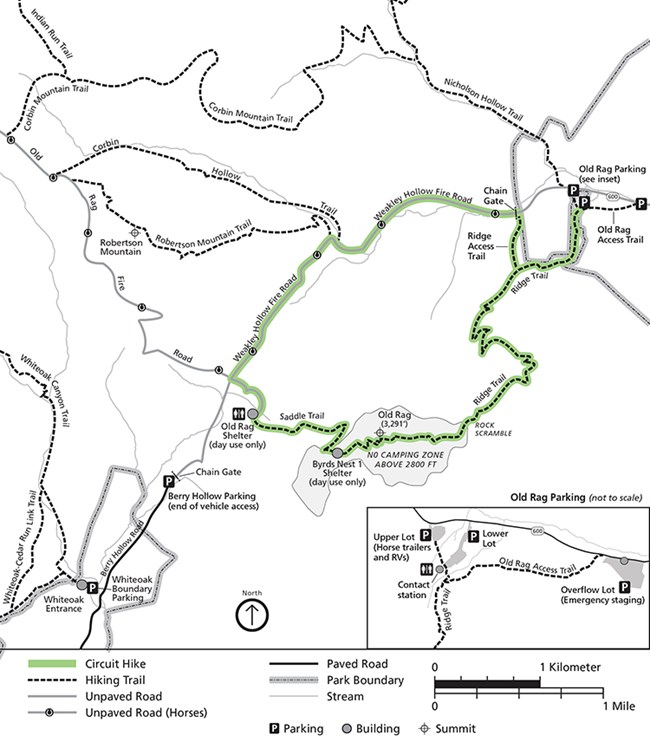 OLD RAG AREA Effective June 11, 2020
There are changes to the visitor experience at Old Rag Mountain! This post is lengthy, so if Old Rag is your jam, settle in.
It's not a secret that Old Rag is crazy popular, and sometimes the crowds adversely affect the visitor experience. Research and conversation about how best to provide for safe enjoyment and resource protection at Old Rag are ongoing and park management is looking at alternatives.
In the meantime, we've been working on one of the biggest challenges at Old Rag: parking and we are super excited to announce that a new parking lot and better trail access has opened. So, when you go to Old Rag, be prepred to follow the signs to the new lot and trailhead!
The Potomac Appalachian Trail Club, The Shenandoah National Park Trust, park staff, and contractors worked together to acquire land for a new parking area nearer the trail, do the required archeology and environmental assessments, build new trails, and so much more!
We are happy that hikers spend less time on the road and have safer access to the trail. And, having parking on park-owned land helps guarantee access in perpetuity.
The new parking area is actually two lots connected by a walking bridge. The upper lot has dedicated RV and horse trailer parking; the lower lot connects with the trailhead.
There's a new addition to the Ridge Trail that takes hikers from the parking area to the original loop. The loop of the Ridge and Saddle Trails to Weakley Hollow Fire Road is the same. Where Weakley Hollow Fire Road connects with Route 600, the new Old Rag Access Trail takes hikers back to the parking area.
For those of you concerned about crowding on the trail, this improvement does not increase vehicle capacity. For now, we will continue to use the former lot for some overflow parking, but the majority of the space will be used as a staging area for emergency services and a helicopter landing zone.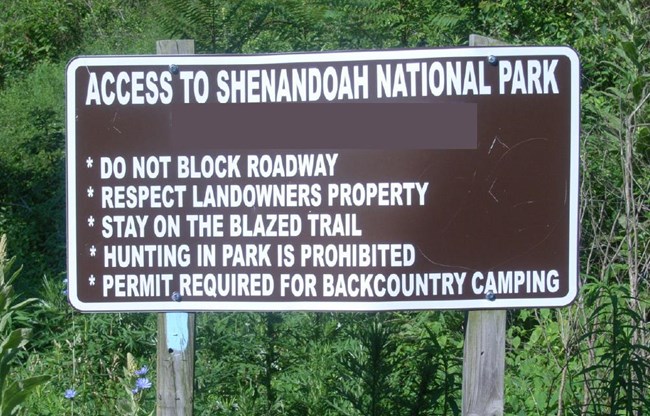 ACCESS VIA PRIVATE PROPERTY
Many trails in Shenandoah National Park are accessed from the park boundary on public right of ways that pass through private property. We ask that you please respect the landowner's property by staying on the blazed trail. There have been continued issues on some of these trails with trespassing, littering, illegal fires, camping, fishing, and a general lack of respect for the private property. This kind of behavior puts future trail access at risk. We are currently working with the some landowners to install signs (like the one shown) to give visitors guidance about staying on the trail when they are crossing private land.
WHITEOAK AND OLD RAG BOUNDARY ACCESS
Whiteoak Canyon and Old Rag can be accessed from the Park's boundary off Route 600. At each of these boundary trail accesses there are Shenandoah National Park-managed parking lots (for about 90 vehicles at Whiteoak and about 265 at Old Rag). Parking in these lots is free.You are required to purchase an entrance permit. Landowners with property adjacent to the Park are charging a fee for parking on their property near both of these areas. Paying a private citizen to park does not affect the entrance fee. Be sure to check the Shenandoah lot for availability before paying to park.
Jeremys Run Trail Boundary Access (October 31, 2017)
The boundary access to Jeremy's Run Trail across private property at State Route 611 is temporarily closed by the landowner. The park trail remains open. We ask that visitors respect the landowner's wishes and avoid this private property until further notice. The park is actively working to resolve the access situation.
Boil Water at South River and Dundo Picnic Grounds (1-18-17)
The water supplies at South River and Dundo Picnic Grounds may contain disease-causing organisms. These organisms include bacteria, viruses, and parasites which can cause vomiting, diarrhea, and cramps. People with weakened immune systems, pregnant women, infants, young children, and older adults are at increased risk of illness.

Do not drink the water without boiling it first! Bring water to a boil for one minute. Boiled water should be used for drinking, cooking or any food preparation, handwashing, brushing teeth, and washing dishes.
TRAIL IMPACTS DUE TO FRAGILE VEGETATION
In order to better protect the fragile plants that live on some of Shenandoah's rock outcrops, the park has implemented some very limited closures. Small areas of Little Stony Man, Hawksbill, and Old Rag are closed to public access. Areas on Old Rag, Little Stony Man, Hawksbill, Old Rag, Mary's Rock, Mount Marshall, and Overall Run are closed to backcountry camping. If you planning a hiking trip and/or a backcountry overnight trip to one of those areas, please check the following closure information:

Little Stony Man
Hawksbill
Old Rag
Marys Rock
Mount Marshall
Overall Run