Hiking Alerts and Closures
From time to time, circumstances may necessitate the closing of trails or other actions to ensure visitor and resource safety. As part of your planning, visit this page to get special alerts and information. If you are a frequent visitor, you may want to bookmark this page.
You can also follow us on Twitter to get updates: @ShenandoahNPS.
---
BOUNDARY PARKING AT WHITEOAK (October 10, 2019)
Shenandoah National Park has reopened the boundary parking area at Whiteoak Canyon Trail off Route 600 in Madison County. The bridge across Cedar Run was severely damaged during heavy rains in 2018. The new bridge was constructed as a collaborative effort between the Piedmont Environmental Council, Trout Unlimited and the landowner, Jimmy Graves of Graves Mountain Lodge. The new bridge will allow fish to pass underneath which will improve the stream habitat.This will restore the 90 parking spaces that were available at the boundary prior to the closing of the bridge. However, visitors should expect the lot to fill on busy weekends and be prepared with alternate plans.




YELLOW JACKETS AND HORNETS WARNING (September 5, 2019)
The park is experiencing higher-than-normal numbers of yellow jacket ground nests along park trails this summer. Be vigilant for clusters of yellow jackets near the ground that look like they have been recently dug out - these areas could be disturbed yellow jacket nests. If you see disturbed yellow jackets or hornets, exercise caution when you pass by or detour around these areas. If you are allergic to bee/wasp stings, make sure you carry your Epi pen (epinephrine). You may consider carrying basic bee sting treatment items, as well. Report active yellow jacket/hornet nests to park staff at 540 999-3500 ext. 3744.

Beldor Fire Road/Horse Trail (7-25-2018)
A section of the Beldor Fire Road/Horse Trail has washed out and is impassable for horses. This gated hiking and horse trail is west of mile 73 in the South District.
WHITEOAK AND OLD RAG BOUNDARY ACCESS
Whiteoak Canyon and Old Rag can be accessed from the Park's boundary off Route 600. At each of these boundary trail accesses there are Shenandoah National Park-managed parking lots (for about 90 vehicles at Whiteoak and about 265 at Old Rag). Parking in these lots is free.You are required to purchase an entrance permit. Landowners with property adjacent to the Park are charging a fee for parking on their property near both of these areas. Paying a private citizen to park does not affect the entrance fee. Be sure to check the Shenandoah lot for availability before paying to park.
Jeremys Run Trail Boundary Access (October 31, 2017)
The boundary access to Jeremy's Run Trail across private property at State Route 611 is temporarily closed by the landowner. The park trail remains open. We ask that visitors respect the landowner's wishes and avoid this private property until further notice. The park is actively working to resolve the access situation.
Boil Water at South River and Dundo Picnic Grounds (1-18-17)
The water supplies at South River and Dundo Picnic Grounds may contain disease-causing organisms. These organisms include bacteria, viruses, and parasites which can cause vomiting, diarrhea, and cramps. People with weakened immune systems, pregnant women, infants, young children, and older adults are at increased risk of illness.

Do not drink the water without boiling it first! Bring water to a boil for one minute. Boiled water should be used for drinking, cooking or any food preparation, handwashing, brushing teeth, and washing dishes.
BOUNDARY ACCESS ALERT-SUGAR HOLLOW ACCESS TO MOORMANS RIVER: OFF-PARK ROAD CLOSED AND REDUCED PARKING NEAR CHARLOTTESVILLE RESERVOIR
Virginia VDOT recently closed a section of Route 614 to vehicles due to a road washout. This closure prohibits vehicle access to the road past the Charlottesville Reservoir parking area (outside the Park's boundary) used by hikers and horse enthusiasts to reach the North and South Forks of Moormans River in Shenandoah. The vehicle restriction does not prohibit hikers or horses from using the corridor up to the Park boundary. Please note that no overnight parking is allowed at the reservoir. In addition, if there are vehicles parked there during the day, there my not be space to turn around with a horse trailer.
TRAIL IMPACTS DUE TO FRAGILE VEGETATION
In order to better protect the fragile plants that live on some of Shenandoah's rock outcrops, the park has implemented some very limited closures. Small areas of Little Stony Man, Hawksbill, and Old Rag are closed to public access. Areas on Old Rag, Little Stony Man, Hawksbill, Old Rag, Mary's Rock, Mount Marshall, and Overall Run are closed to backcountry camping. If you planning a hiking trip and/or a backcountry overnight trip to one of those areas, please check the following closure information:

Little Stony Man
Hawksbill
Old Rag
Marys Rock
Mount Marshall
Overall Run
POCOSIN HOLLOW AREA (8-25-11)
(at park boundary)
Hikers entering the Pocosin Hollow area from the boundary (Greene County) are encouraged to use Virginia Route 643 and the Entry Run Trail to access Pocosin area trails. Parking is very limited and access to the park in this area is through private property, so please stay on the trail.
The recommended access to Pocosin area trails is via Skyline Drive from the parking area at mile 59.5.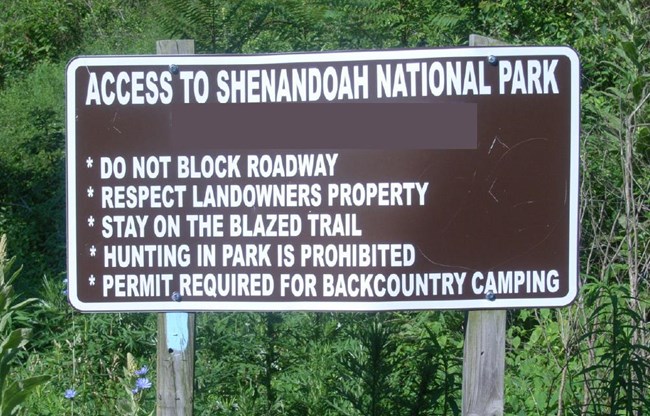 Many trails in Shenandoah National Park are accessed from the park boundary on public right of ways that pass through private property. We ask that you please respect the landowner's property by staying on the blazed trail. There have been continued issues on some of these trails with trespassing, littering, illegal fires, camping, fishing, and a general lack of respect for the private property. This kind of behavior puts future trail access at risk. We are currently working with the some landowners to install signs (like the one shown) to give visitors guidance about staying on the trail when they are crossing private land.
Last updated: October 21, 2019