Hiking Alerts and Closures
From time to time, circumstances may necessitate the closing of trails or other actions to ensure visitor and resource safety. As part of your planning, visit this page to get special alerts and information. If you are a frequent visitor, you may want to bookmark this page.
You can also follow us on Twitter to get updates: @ShenandoahNPS.
---
RIP RAP - WILDCAT RIDGE AREA (June 12, 2019)
The Superintendent has ordered an overnight use closure along the Appalachian Trail in the Rip Rap - Wildcat Ridge area (mile 90 to mile 92.5) to minimize further human-bear conflicts. Two bears were able to access human food in that area.

The closure extents along the A.T. from the Rip Rap Trailhead (mile 90) to just south of the Wildcat Ridge parking where the A.T. crosses Skyline Drive.

The closure does NOT include designated campsites or A.T. shelters and is for overnight use only.

Campers and hikers are reminded to protect their food and never surrender a pack to a bear.
Paving Update
(June 12, 2019)
Beginning Sunday 6/16 at approximately 6pm, the contractor will resume milling the existing pavement from just south of the Front Royal Entrance Station to Route 340 (mile 0. This operation will take approximately 3-4 nights.
Starting on or about Wednesday night 6/19, the contractor will begin to pave through the entrance station. This work will also occur at night. This work is anticipated to take 2-3 nights.
On Monday 6/24 work will return to daytime hours and the contractor will finish paving from north of the entrance station out to Route 340
Part of the work includes paving Dickey Ridge Visitor Center Parking. This work will be done in phases to allow for visitors to access the parking area. At all times at least one entrance road will remain open and some parking will be available. The contractor plans to mill areas within the parking area during night time on or about Tuesday 6/18.
Paving operations at Dickey Ridge VC may begin late in the week of June 24 or the following week. The contractor is taking July 4th into consideration and is finalizing his plans. No work will occur on July 4th or Friday July 5th.
Paving Operations on Skyline Drive (Summer 2019)
Mile 0 to mile 5.6
Mill and paving of the Housing Road at Front Royal;
Thin lift paving of Shenandoah Valley Overlook;
Thin lift paving of Dickey Ridge VC parking;
Mill and paving of No Name Overlook;
Thin lift paving of Signal Knob Overlook.

The contractor is planning on performing the work from Route 340 to just beyond the Entrance Station during night time hours. Work at Dickey Ridge will be phased to allow for some parking and traffic flow through the area. Work is scheduled to start on May 6 with the milling operation to begin at MP 5.6 and heading north. Paving will start approximately a week later. We expect this work to continue through August.
Parkwide Trails Alert - April 24, 2019
Due to a number of successive damaging ice and wind storms over the last 5 months, there are many trees across trails throughout the park. The Appalachian Trail is passable, and high-use trails such as Dark Hollow Falls and the trails on Old Rag will be cleared by Memorial Day weekend. Trail crews hope to have other trails cleared by July. Please be prepared to turn back if a trail is blocked and please avoid forming new social trails that may cause erosion and other issues.
STONY MAN AREA
To protect sensitive resources, the park has initiated a temporary closure of a 10.6 acre portion of the backcountry in the Stony Man Area. This closure is expected to run from 3/4/19 to 6/30/19.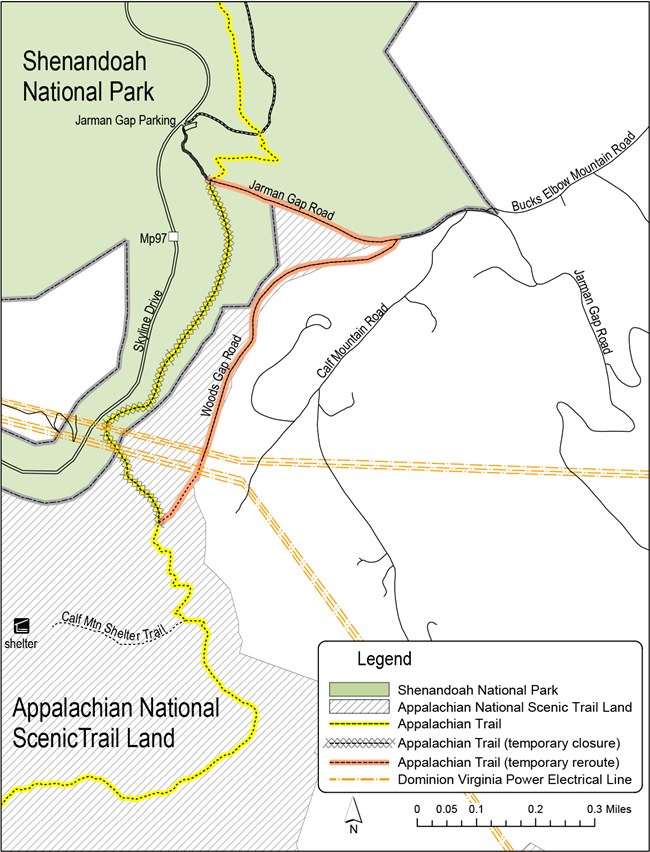 Temporary Relocation of a Portion of the A.T.
(12-11-2018)
About one mile of the A.T. has been temporarily relocated in the south district of the park due to construction in a power line right-of-way (see map). Starting approximately 1/4 mile north of the Calf Mountain Shelter Trail, the detour crosses the right-of-way and follows private roads (Woods Gap and Jarman Gap Roads) until it rejoins the A.T. on Jarman Gap Road. There are signs marking the detour in several places along its length. Hikers are urged to stay on the detour as a portion of it crosses private property. Hikers may be delayed for up to 15 minutes at both boundaries of the right-of-way corridor for safety reasons during construction activities. The detour is expected to be in place until May of 2019.
Beldor Fire Road/Horse Trail (7-25-2018)
A section of the Beldor Fire Road/Horse Trail has washed out and is impassable for horses. This gated hiking and horse trail is west of mile 73 in the South District.
WHITEOAK AND OLD RAG BOUNDARY ACCESS
Parking at the Whiteoak boundary trailhead is very limited. The upper lot is closed because the bridge has flood damage. Please plan accordingly as you may not find a parking space on busy weekends and holidays.
Whiteoak Canyon and Old Rag can be accessed from the Park's boundary off Route 600. At each of these boundary trail accesses there are Shenandoah National Park-managed parking lots (for about 90 vehicles at Whiteoak and about 265 at Old Rag). Parking in these lots is free.You are required to purchase an entrance permit. Landowners with property adjacent to the Park are charging a fee for parking on their property near both of these areas. Paying a private citizen to park does not affect the entrance fee. Be sure to check the Shenandoah lot for availability before paying to park.
Jeremys Run Trail Boundary Access (October 31, 2017)
The boundary access to Jeremy's Run Trail across private property at State Route 611 is temporarily closed by the landowner. The park trail remains open. We ask that visitors respect the landowner's wishes and avoid this private property until further notice. The park is actively working to resolve the access situation.
Boil Water at South River and Dundo Picnic Grounds (1-18-17)
The water supplies at South River and Dundo Picnic Grounds may contain disease-causing organisms. These organisms include bacteria, viruses, and parasites which can cause vomiting, diarrhea, and cramps. People with weakened immune systems, pregnant women, infants, young children, and older adults are at increased risk of illness.

Do not drink the water without boiling it first! Bring water to a boil for one minute. Boiled water should be used for drinking, cooking or any food preparation, handwashing, brushing teeth, and washing dishes.
BOUNDARY ACCESS ALERT-SUGAR HOLLOW ACCESS TO MOORMANS RIVER: OFF-PARK ROAD CLOSED AND REDUCED PARKING NEAR CHARLOTTESVILLE RESERVOIR
Virginia VDOT recently closed a section of Route 614 to vehicles due to a road washout. This closure prohibits vehicle access to the road past the Charlottesville Reservoir parking area (outside the Park's boundary) used by hikers and horse enthusiasts to reach the North and South Forks of Moormans River in Shenandoah. The vehicle restriction does not prohibit hikers or horses from using the corridor up to the Park boundary. Please note that no overnight parking is allowed at the reservoir. In addition, if there are vehicles parked there during the day, there my not be space to turn around with a horse trailer.
TRAIL IMPACTS DUE TO FRAGILE VEGETATION
In order to better protect the fragile plants that live on some of Shenandoah's rock outcrops, the park has implemented some very limited closures. Small areas of Little Stony Man, Hawksbill, and Old Rag are closed to public access. Areas on Old Rag, Little Stony Man, Hawksbill, Old Rag, Mary's Rock, Mount Marshall, and Overall Run are closed to backcountry camping. If you planning a hiking trip and/or a backcountry overnight trip to one of those areas, please check the following closure information:

Little Stony Man
Hawksbill
Old Rag
Marys Rock
Mount Marshall
Overall Run
POCOSIN HOLLOW AREA (8-25-11)
(at park boundary)
Hikers entering the Pocosin Hollow area from the boundary (Greene County) are encouraged to use Virginia Route 643 and the Entry Run Trail to access Pocosin area trails. Parking is very limited and access to the park in this area is through private property, so please stay on the trail.
The recommended access to Pocosin area trails is via Skyline Drive from the parking area at mile 59.5.
Last updated: June 14, 2019