Park App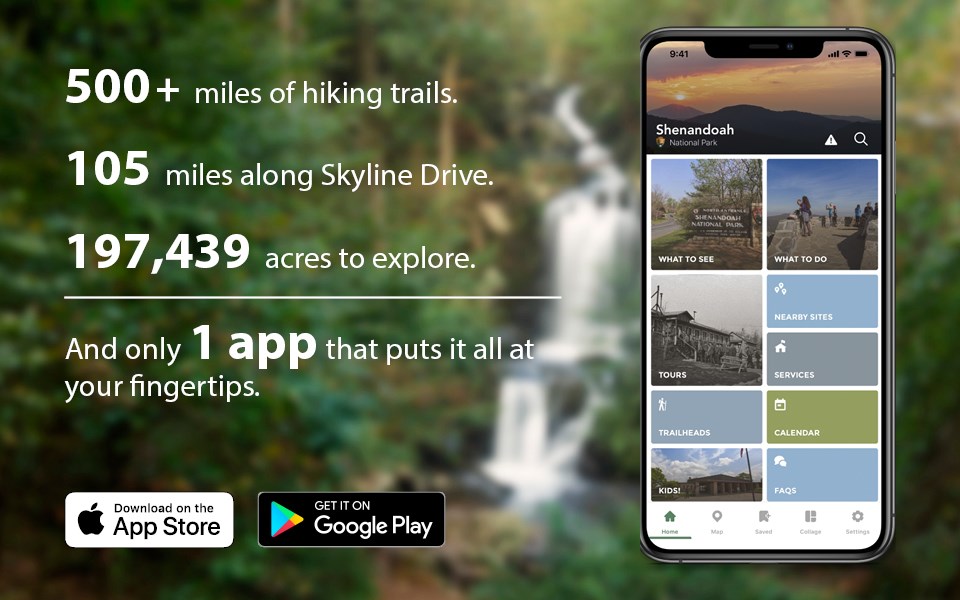 Introducing the official Shenandoah National Park app
---
What It Does
Use the official app from Shenandoah National Park to find detailed information about visitor centers, important sites throughout the Park, and places to stay and eat. Features include:
Park map: find sites, get directions and locate services. Available for download before you arrive so that you can use the app even without cellular service.
Sites: find trailheads, restrooms, overlooks and more throughout the entire Park.
Favorites: build an itinerary by saving your favorite sites and events. You can even get alerts when you're nearby a saved site.
Calendar: get up-to-date information about what's happening in Shenandoah.
Tours: discover rich natural and cultural resources with self-guided walking tours.
Accessibility: includes accessibility information for facilities and some trails in the Park, audio-described sites, and alternative text for images.
How It Works
Simply download the free app from the Apple App Store or the Google Play Store. It's highly recommended that you download the app before you arrive to Shenandoah National Park as cell service and Wi-Fi are limited in Shenandoah. You will also want to download offline content before you arrive (available in the settings menu of the app). This will allow you to continue to use various functions of the app without cell service.
Where You Get It
For iOS users:
Apple App Store
For Android users:
Google Play Store
The official Shenandoah National Park app development project was funded, in part, by your fee dollars. Thank you for your support!
Last updated: April 27, 2020