Wilderness Weekend 2006
Date:
October 10, 2006
Contact:
Laura Buchheit, 540-999-3489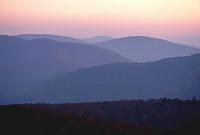 Shenandoah National Park will honor America's wilderness heritage during the 6th annual Wilderness Weekend,
October 21 - 22, 2006.
This year commemorates the 30th anniversary of Shenandoah's wilderness designation. Celebrate wilderness and enjoy fall foliage by viewing Shenandoah's wilderness from Skyline Drive, hiking a wilderness trail, joining a ranger program, or stopping by a visitor center.
Special events - Byrd Visitor Center, mile 51 on Skyline Drive.
Traditional tool demonstration from
10:00 a.m. to 3:30 p.m. each day.
Crosscut saw sharpening demonstrations from
10:00 to 11:00 a.m. and
1:00 to 2:00 p.m. each day.
Shenandoah National Park Trail Crews and Potomac Appalachian Trail Club (PATC) volunteers will highlight the traditional tools used to maintain trails in wilderness. Visitors will be able to try their hands at using these tools and gain insight on the important role trail maintenance plays in protecting wilderness for future generations.
Ranger programs (30-minute)  at
11:30 and 2:30 each day. These programs will explore the history and values of Shenandoah's wilderness.
Commemorative Wilderness Weekend passport book ink stamps will be available at both Byrd Visitor Center and Dickey Ridge Visitor Center (mile 4.6).
Shenandoah's wilderness was designated by Congress in October 1976. Forty percent of the park, almost 80,000 acres, is wilderness and represents one of the largest wilderness areas in the eastern United States. Areas preserved as wilderness provide sanctuaries for human recreation, habitat for wildlife, sites for research, and reservoirs for clean, free-flowing water. Wilderness areas have been designated on public land across the United States. Today more than 106 million acres of public land are protected in the National Wilderness Preservation System.
For more information on Wilderness Weekend, contact Shenandoah National Park's Education Office at 540-999-3489.