Date:
November 21, 2006
Contact:
Greta Miller, 540-999-3581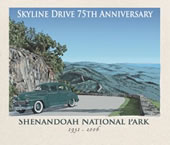 2007 Calendar Features Skyline Drive
The 2007 Shenandoah National Park Calendar, commemorating the 75th Anniversary of the beginning of construction of Skyline Drive, is now available. This special anniversary edition features 12 color photos of the popular Skyline Drive,from snow-white January, through the beautiful spring and summer, then the colorful fall foliage season, and then back to winter ice. 
Special dates and tidbits of information about the park are noted in the monthly grids. Readers will find, for example, the date in 1936 when President Franklin D. Roosevelt dedicated the park; the date in 1934 when the first black bear was reintroduced into the park; the date of the dedication of the Limberlost Trail, the park's first accessible trail; the dates when the different sections of Skyline Drive opened; and many more. In addition, the monthly grids mark the different phases of the moon and all national holidays.
A special feature of this year's calendar is the sidebar on each month that features a historic photo and text telling more about the building of Skyline Drive. The images are black-and-white photos of the actual construction of the roadway. The photos were provided by the Shenandoah National Park Archives.
The calendar is jointly produced by the park's non-profit partner, the Shenandoah National Park Association (SNPA), and the park's concessioner, ARAMARK. The calendars, which retail for $9.99, are available from the SNPA at 540-999-3582 or from the Association's website at www.snpbooks.org Also, you can purchase a calendar from the Luray/Page County Chamber of Commerce, Brookside Gift Shop in Luray, the Front Royal Visitor Center, the Royal Oak Bookstore in Front Royal, the Sperryville Emporium, Fly By Night Books in Flint Hill, the Corner Shelf in Culpeper, the Madison County Chamber of Commerce in Madison, Murray's Fly Shop in Edinburg, the New Dominion Bookshop in Charlottesville, Rockfish Outfitters in Waynesboro, and the Shenandoah Valley Travel Association (SVTA) in New Market.