Date:
June 30, 2006
Contact:
Greta Miller
, 540-99-3581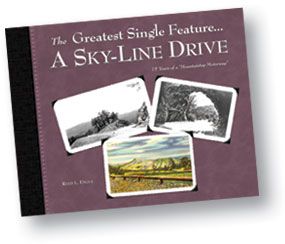 Shenandoah National Park, VA – The Shenandoah National Park Association announces the publication of the fourth book in its cultural history series: "The Greatest Single Feature . . . A Sky-Line Drive": An Illustrated History of a Mountaintop Motorway. The book, written by Reed L. Engle, Cultural Resource Specialist in the park, is part of the celebration of the 75th anniversary of the Drive, for which construction began in July, 1931.
For 105 miles, Skyline Drive moves across the crest of the Blue Ridge Mountains in Shenandoah National Park, through forest and past spectacular open views to east and west. Millions have come to take this scenic ride since the Drive opened, section by section, in the 1930s. Visitors are thrilled to see wild animals along the way—especially deer and bears. Skyline Drive also provides access to visitor centers, restaurants, and other park facilities, as well as to most of the hiking trails in the park.
But few people know the fascinating story behind the building of Skyline Drive. Engle unfolds that story in this book—from the "Good Roads" movement early in the 20th century and the railroad companies that spawned the national park movement, through the search for a suitable site for parks in the East, to the work of the "boys" in the Civilian Conservation Corps who carried out the landscape designs. Maps and design plans, dozens of historic photographs, a detailed and engaging text—all bring this narrative to life. One special section highlights historic color postcards of Skyline Drive.
The book is published by the Shenandoah National Park Association, the cooperating association of Shenandoah National Park, which also published the first three books in the cultural history series: Everything Was Wonderful: A Pictorial History of the Civilian Conservation Corps in Shenandoah National Park and In the Light of the Mountain Moon: An Illustrated History of Skyland, both also by Engle; and In the Shadow of Ragged Mountain: Historical Archaeology of Nicholson, Corbin, & Weakley Hollows by Archaeologist Audrey Horning. You will find these books and many other books, maps, and guides at the park's visitor centers and other facilities. Or to order from the Association, call 540-999-3582, or visit the Association's website: www.snpbooks.org. You can also order by mail from the Shenandoah National Park Association, 3655 U.S. Hwy. 211 East, Luray, VA 22835.