Date:
November 27, 2006
Contact:
540-999-3500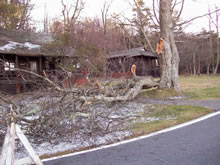 Shenandoah National Park has implemented closures of the Skyline Drive due to extensive damage caused by an ice storm which occurred in late November. Treetops and branches snapped under the weight of accumulated ice. Many miles of Skyline Drive and trails are blocked with fallen trees and branches, with hazardous limbs hanging overhead.
Crews have been working to clear Skyline Drive and hiking trails. Downed trees remain on Skyline Drive, and in many trails and in picnic areas and campgrounds. 
Call 540-999-3500 for the most current information and updates regarding the status of the park.
For Skyline Drive status, click here...