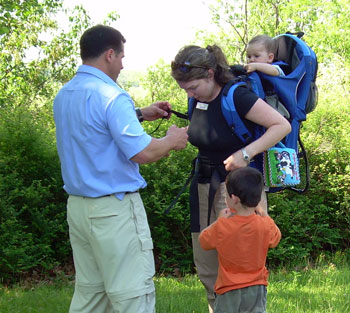 News Release Date:
May 21, 2009
Contact: Shenandoah Education, 540-999-3500, ext. 3489
Shenandoah National Park will be hosting a
Hiking With Children
seminar on Sunday, June 14, 2009, from 11:00 a.m. to 1:00 p.m. This program is for parents who have wanted to go hiking with their children but worried about what to do to keep them interested, entertained, and safe. Here is the chance to learn from an expert. Join Jeff Alt, noted author of
A Walk for Sunshine
and avid hiker, to learn firsthand how to share nature with children for a fun and safe outdoor adventure.
Jeff has hiked the more than 2,175 mile length of the Appalachian Trail on his own. During the summer of 2007, with his wife and extended family, he carried his 21-month-old daughter on a 50-mile hike across a swath of Ireland. At the Hiking With Children program, Jeff will provide tips on how families with children can experience nature together on the trails in Shenandoah National Park.
The Hiking With Children seminar will begin in the Massanutten Room at Big Meadows Lodge, mile 51.2 on Skyline Drive The program is free but reservations are requested. There is a $15 per-car entrance fee to the park, good for seven days.
To register for the seminar, go here.
Hiking With Children is one of the Shenandoah National Park Resource Seminars designed for those who want to get to know their national park a little more personally. Seminars provide a more in-depth experience to learn from scientists, researchers, educators, and other experts about resource issues and recreational opportunities in Shenandoah National Park. Future seminars include Jeff Alt's return for a repeat session of Hiking With Children on Sunday, July 12, 2009, The Basics of Family Camping, June 27-28 and July 18-19, 2009, and The American Chestnut: Restoring Forest Majesty, Saturday, August 22, 2009.
The complete Resource Seminar schedule can be found on the park's website here. Members of the Shenandoah National Park Association receive a 20% discount on seminars with a fee. The Shenandoah National Park Resource Seminars are co-sponsored by the Shenandoah National Park Association and ARAMARK, the park's official concessioner.
For more information, contact the park's Education Office at 540-999-3500, extension 3489.