Date:
May 11, 2006
Contact:
Greta Miller, 540-999-3582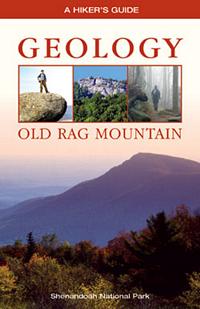 Shenandoah National Park, VA – The Shenandoah National Park Association (SNPA) announces the publication of A Hiker's Guide to the Geology of Old Rag Mountain in Shenandoah National Park. The author is Paul Hackley of the U.S. Geological Survey, who has hiked up Old Rag for more than 25 years.
The guide directs visitors to the parking area and trailhead and then up to the top of Old Rag and down again—for an all-day circuit hike which has challenged and delighted countless numbers of hikers. Hackley points out and explains the many geological features along the way, in easy-to-understand prose, often with photographs to clarify the text. He also underscores the many other natural features along the way, including flowers, trees, and spectacular scenic vistas.
The final section of the guide gives the geologic history of Old Rag, starting from over one billion years ago, when the granite of Old Rag was molten rock deep beneath the surface of the earth. The story is fascinating, for hikers and non-hikers alike.
The entire guide is illustrated with spectacular color photographs of the trail, the rocks, the trees, the vistas, and Old Rag itself, seen from different angles. A map on the back cover by Park GIS Specialist Dan Hurlbert makes the hiking directions even easier to follow.
Neal Lewis, in the Interpretation Division of Shenandoah National Park, designed the guide. The writing, the photographs, and Lewis's design combine to make this a valuable publication, one to be used and treasured. And because it is small—5 ½" x 8 ½"— the guide is easy to carry and follow while hiking.
SNPA, the publisher of the guide, is a non-profit organization established in 1950 to support park interpretive and educational programs. SNPA has published numerous books on the natural and cultural history of the park as well as several inexpensive hiking booklets.
A Hiker's Guide to the Geology of Old Rag Mountain in Shenandoah National Park is available for purchase at the Dickey Ridge Visitor Center (mile 4.6), Byrd Visitor Center (milepost 51), and at concession facilities throughout Shenandoah National Park. It can also be ordered from SNPA at (540) 999-3582 or from the SNPA website at www.snpbooks.org.