2019 Fall Color
October weekends are our busiest time. Campgrounds are fully booked for 2019. There are some first-come, first-served sites but those fill quickly and usually by Thursday evening. We will try to communicate status via social media on Thursdays and Fridays on our Facebook, Twitter, and Instagram accounts.

PLEASE NOTE: You must be at the campground in person to get a first-come, first-served site. You cannot reserve a site by calling the park directly. We have a very high volume of calls this time of year, so monitoring via social media is the best way to track campground status.

Wondering what's up with the color in Shenandoah? We've devised several ways to keep you posted, but remember: the Park is over 100 miles long and spans a wide elevation range. Fall color conditions can vary dramatically from area to area. Weather affects the color from day to day and even hour to hour. It is impossible to predict a peak. However you experience fall color in Shenandoah, know that what you see is a unique snapshot of an ever-changing, living forest.

Here's how we're capturing what's going on this year:
Each Thursday, we'll post a photo from three different photo points on this page and on social media (Instagram, Twitter, and Facebook). We'll ask others to post their photos on our social media accounts with a time and place so you can see what other visitors are seeing as well.

Each Thursday at 2:00 p.m., we'll do a Livestream on our Facebook page giving updates on fall in general and tips for visiting.

And if you want to see in real time what at least one mountainside-into-valley part of Shenandoah National Park looks like at any given moment, don't forget to check out the Park's fall color webcam.
If you want to consult the experts on the topic, check out one of the fall color prediction maps available online, like this fall foliage map from SmokyMountains.com.

To learn more about what makes Virginia's fall colors pop visit the fall foliage page of the Virginia Department of Forestry.

If you'd like to compare with past years, click here!
Tips for Visiting in Fall
If at all possible, come during the week; weekends are much, much more crowded.
The two most northern entrances, Front Royal and Thornton Gap are the busiest and have the longest waits. Try a nice circuit trip south through the lowlands on Route 29 to the east or on Route 340 to the west to Swift Run Entrance (Route 33) or Rockfish Entrance (route 64) and then return via Skyline Drive. You'll get to see the big picture looking up at the Park and the up close version once you enter the Park.
When you get to the entrance station, have your payment ready. And, use this website to do a bit more research on what you want to do once you're in the park. It's very difficult for entrance station staff to answer detailed questions when there are long lines.
Bring layers; it can get really chilly on the mountain! There's usually a 10-degree difference from the valley.

October 31
As fall begins to wind down, there is still plenty of color throughout the park. Plan ahead! Thornton Gap and Front Royal entrance station will continue to be impacted with high traffic during the weekends.

October 24
The colors are popping! Fall is in full effect with most trees changing colors. You may notice a difference in some parts of the park due to the varying elevation.

October 17
Some noticeable change is starting to take effect! Reds, oranges, and yellows are peaking through - especially at the higher elevations.
October 10
Still mostly green, but a bit of rain and plunging temps this week should help. Looks like we might even get our first frost this weekend.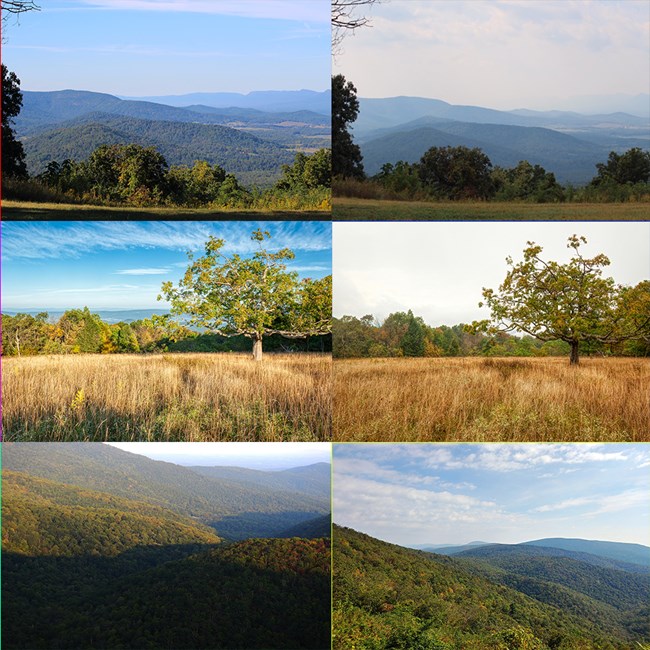 October 3
Seeing a little more color, but still mostly green. Color is very localized--just random vibrant trees here and there. Probably the biggest snap is the bright red Virginia creeper that stands out against the gray tree trunks all along Skyline Drive. We desperately need rain. Last week's shower was less than a inch, and while we are thankful for any amount, we need more!
Here's a grid of the photos we've taken so far so you can see the difference from last week to this week. The top is Dickey Ridge at mile 4.6, the middle is Tanners Ridge Overlook at mile 51.5, and the bottom is Ivy Creek Overlook at mile 77.5. Thanks so much to our photographers: Jodi Davis, Lara Ellis, and Paula Keeter!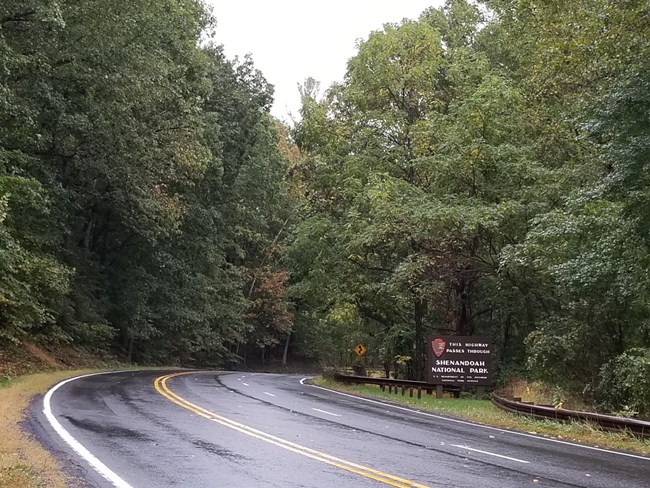 September 30
Woohoo!! It's raining! It's been so horribly dry, and while this won't fix the situation entirely, it's so nice to get some moisture in the air. AND!! The forecast is for much cooler temperatures next weekend. We have to get through a hot spell on Wednesday, but we hope between the rain today and cooler temps coming, the color will get a bit of a jump-start.
Don't forget to join us for our Livestream on Thursday at 2:00 for an update! And please post your own photos on our social media!
September 26, 2019
We've had a few welcome dips in the thermometer that have served as a reminder that fall is on its way. As you can see from the photos, it's still mostly green, but there are a few over-anxious trees sprouting some bright hues here and there!
What we really need ASAP is some rain! For lots of reasons! Rain would help a lot with more vibrant color. If this continues, we run the risk of the leaves just turning brown and falling off!

The other reason we need rain is that right now our fire danger is HIGH! And it's not even officially fall fire season yet. So, please be careful and remember these tips during this time of high fire danger:
Fires are illegal in the Park except in Park-constructed fire rings in picnic grounds, campgrounds, and other developed areas.
Please be extra careful with cigarettes, matches, etc.
Last updated: October 31, 2019