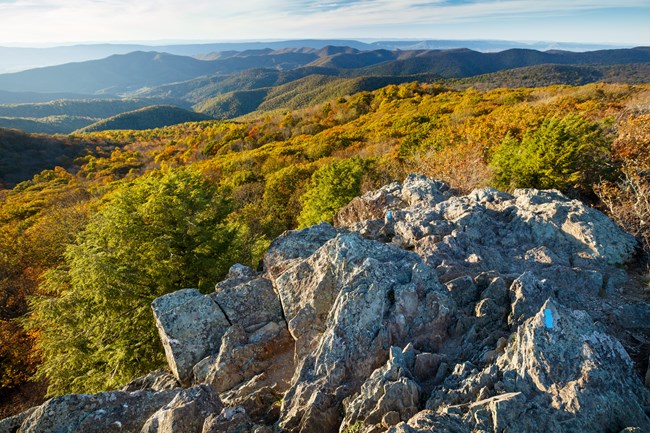 October 28, 2016
Fall color report for October 28, 2016.
"Good Lord Boyet, my beauty, though but mean,
Needs not the painted flourish of your praise:
Beauty is bought by judgement of the eye,
Not utter'd by base sale of chapmen's tongues."
~ William Shakespeare, "Love's Labours Lost," 1588
"Beauty, like supreme dominion,
Is but supported by opinion."
~ Benjamin Franklin, "Poor Richard's Almanack," 1741
Though it's true that what each of us considers as beautiful (or not) is entirely subjective, Shenandoah National Park is always beautiful – at any time, in any season, in the eyes and opinions of almost everyone.
However…

...just about everyone would agree that fall brought her brightest, most vibrant colors to Shenandoah National Park last week. This week, though it's still autumn in this part of the Blue Ridge, the colors – though still gorgeous – are more muted. You must accept this and learn to appreciate it for what it is: this is nature.

But that doesn't mean the trees are all bare. There are still plenty of lovely trees wearing their crushed-velvet gowns in sophisticated, grown-up shades like russet, pumpkin, thyme green, and cumin. In the early afternoon stop by Jenkins Gap Overlook at mile 12.4 and try to count how many different hues you see there. The view from Pinnacles Overlook at mile 35 is one of the best going this week, with all the colors of a spice drawer – paprika, ginger, clove, sage, chili powder, cinnamon, nutmeg, and saffron – on one hillside. Heading south, when you round the bend just past Stony Man Overlook (mile 38.6) and gaze up at the old, recumbent man in the mountains, you'll see broad strokes of forest greens, cabernet sauvignon purples, allspice browns, Dijon mustard ochres, and the interspersed grizzle of trees who have lost their leaves already along with long-dead hemlocks who never got needles this year. In the waning light of late afternoon, this makes for a majestic scene that is not nearly as somber as it sounds, and much more resplendent.

The view from Bearfence, a short rock scramble to a 360-degree view that begins at mile 56.4, is like looking onto a huge artist's palette of oil colors – terre verte, chrome yellow, cadmium yellow and cadmium orange, jaune brilliant, renaissance gold, copper, Venetian red, terra rosa, brown ochre, and raw umber – all, if you're lucky, under a cerulean blue sky.

Remember as you travel through the Park in the next few days what Margaret Wolfe Hungerford wrote in 1878 in Molly Bawn: "Beauty is in the eye of the beholder." In some places you will have to pull out the imagination you haven't let play since spring and let it play now, in order to realize just how beautiful is the sight you're taking in. In other places along Skyline Drive or some of the Park's 500-plus miles of hiking trails you might be – without any effort at all on your part – struck breathless by patches of brilliant, pure autumn colors. But make no mistake: it's all beautiful. You'd be foolish not to come to Shenandoah National Park as soon as possible, if you can, and see it for yourself.

Don't forget to check the fall color mountain webcam and this week's collection of Shenandoah fall color photos on Flickr.
This is the last fall color report of this year. Enjoy the rest of this charming season and have a great winter, spring and summer. We'll see you next fall.