2015 Fall Color Report
October 23, 2015
"Mark how the forest now hath doffed its green,
And Nature dons her cloak of many hues;
Now reigns the holy beauty of Decay!
How calmly sleeps the lake: the coloured woods
Reflected on its face in thousand tints...
Like rainbows wreck'd, all the gay woods do sing..."
~James Rigg, "The Poet's Ramble in October," Wild Flower Lyrics and Other Poems
How exquisite is the decay that comes with autumn! Drive through Shenandoah National Park this weekend and thrill to the gorgeous glory of this paradox of seasons that marks an end to summer's balminess and the beginning of a long winter sleep. Yes, everything will turn taupe and sullen in a few weeks and the woods will nod off under a skin of frost and snow and – soon enough – ice. (It will still be lovely, especially once the clear silver-blues of winter arrive, but that's another season.)

It's October, though, and still party time in these mountains. Sleep and rest and the quietude of winter will come along in due time, but this week these woods are loud and obnoxiously glamorous, like ill-behaved but beautiful celebrities wearing feather boas, big hats, silk ties, and lots and lots of costume jewelry.
Red! How many different words are there for this most fiery of colors? Carmine, scarlet, ruby, cherry, candy apple – they're all here, polka-dotting the hills of Shenandoah National Park right now. In the area around miles 18 and 19, the hills to the east of Skyline Drive are dappled here and there with trees the shocking vermillion of poinsettias. Some trees on those particular mountainsides have already shed their leaves, so these smears of red stand out like cardinals on a winter landscape. In most places in the Park this week, these dollops and smears of red (mostly maples and some ambitious Virginia creepers shimmying up tall trees of every kind) intermingle nicely with the oranges, golds, yellows, and greens of hickories, oaks, ashes, and pines. All along Skyline Drive, seriously red maples – one at a time, for maximum impact – stand and salute you as you motor by them, like Beefeaters at the Tower of London.

At Franklin Cliffs Overlook in the center of the Park, the north-facing hillside is positively alive with color – to call it a riot is no overstatement. Sunlit trees stand proudly on their slope, so flashy they put the 96-count box of Crayolas to shame. Even though the central portion of Shenandoah, where Fishers Gap lies, is past proverbial peak, the views from its overlooks and summits are just getting started. Oranges are spectacular throughout this Blue Ridge park: certain mountains at its heart are rusty and nubby with treetops, reminding you of freshly baked, yet-to-be-iced carrot cupcakes – little bumps of carrot-hued hickories and pineapple-tinted maples lending texture to the view. Sassafras has pulled out all the stops this year, absolutely blazing, the colors of a bonfire. If you have the chance to drive south through Marys Rock Tunnel near mile 32, do so: as you exit the tunnel, the view expands crazily, a kaleidoscope of yellow, gold, and Key lime. Low Gap, at mile 8, was all ebony and chartreuse on Thursday – ebony from the trunks of the tulip trees that amass there and chartreuse from their leaves, making that stretch of Skyline Drive as hushed and holy-seeming as a Gothic cathedral. By Saturday, that same sanctuary will be glowing gold, the tulip trees' leaves burning like a thousand lit candles.

It's all carnival colors up there now – circus-poster shades of red, gold, orange, yellow, and green. Add all that to the cornflower blue of the sky and the pale but psychedelic purple of asters that are still blooming – becoming in some places brighter as they fade – and what you get is a festival of color.

It will feel like Shenandoah National Park has gone into party mode and donned these bright jewels and garments just for you. Drive safely, of course, watching for crossing wildlife, visitors, and other cars – but don't miss a single mile of it. Soon enough Old Man Winter will arrive in a gust and these colors will be the stuff of photographs, poems, and memory.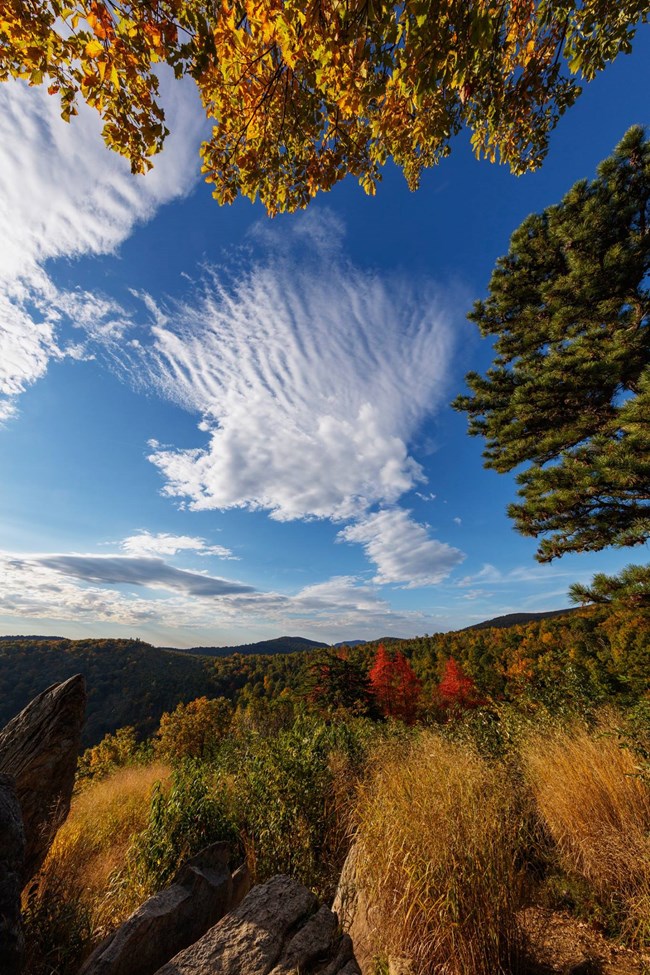 October 16, 2015
"But in October what a feast to the eye our woods and groves present! The whole body of the air seems enriched by their calm, slow radiance. They are giving back the light they have been absorbing from the sun all summer."
~John Burroughs, "The Falling Leaves," Under the Maples

No doubt about it, fall color is a science. Changes in seasonal light and temperatures tell the trees they can shut down photosynthesis (making food and oxygen from water, carbon dioxide, and light) for the rest of the year, and live off the nutrients they stored up during summer. Chlorophyll, which helps bring about photosynthesis, makes trees' leaves green. When light and temperature changes alert trees to shut down the kitchen that is photosynthesis, chlorophyll disappears from leaves and the leaves' true colors emerge – which delights the heck out of most of us. Nature causes the color change and it's all explainable by science. But the real end result of this for us humans is art, and we are enchanted by art.

And let's face it, nature is famously unpredictable. Scientists try every year to forecast how, where, and when autumn's colors will be at their "peak." But fall color peak remains a delicious and mystifying little minx.

If you want to consult the experts on the topic, check out one of the fall color prediction maps available online, like this one: http://smokymountains.com/fall-foliage-map/ If you'd like a plain-language explanation of why leaves change color, visit a site like Science Made Simple: http://www.sciencemadesimple.com/leaves.html And if you want to see in real time what at least one mountainside-into-valley part of Shenandoah National Park looks like at any given moment, don't forget to check out the Park's fall color webcam:https://www.nps.gov/shen/learn/photosmultimedia/view_webcam.htm

Or just come to the Park and see the show for yourself.

If you drive into Shenandoah National Park anytime during the next week and a half, you will be greeted by Jackson Pollock-esque spatters of some of nature's most surprising shades. The lower elevations of the north district are still coming along, and there is some magnificent color from Front Royal to Beahms Gap. But right now, the very center of the Park – from Thornton Gap at route 211 34 miles south to Swift Run Gap at route 33 – is near or at its prime for the year.

Hickories, sassafras, and some maples are splashed with dramatic yellow-golds. Depending on the time of day you see them and the light that strikes them, these trees can look like outsize flowers – coreopsis, goldenrods, big bushy blossoms like something Alice might have seen in Wonderland. Near Skyland, around mile 42 on Skyline Drive, the sun shining through those yellow-golds doubles its own intensity until you feel like you're motoring through the sun itself.

The effect is detoxifying; you feel the poisons of the week draining away as you gaze into the gilt. The Meadow Spring parking maple (at mile 33.5) which last week was robed in ripe mango hues this week resembles the brown-orange-into-gold-into-vapor of a single candle flame; next week it will be bare, snuffed out for the year. Stop at Stony Man Overlook south of mile 38 and gaze up at the old fellow in the mountain. How very like an illustration of a recumbent Jerry Garcia he looks, rendered in Sixties-era tie-dye tones!

Between mile 47 and 48 is a commotion of color. Looking out from Hemlock Springs and Franklin Cliffs overlooks is like drifting over a Turkish spice market. Naked Creek Overlook a few miles south of Big Meadows is blazing yellow. Driving north toward Swift Run Overlook (near mile 67), you round a bend and the mountain in front of you assaults you with color. Stand at Bacon Hollow Overlook, just south of mile 69, and you won't believe you're not looking out onto a model railroad collection of trees of every shade.

Rocky Mount Overlook just south of mile 71 is gorgeous whether you gaze out into the Shenandoah Valley from it or turn around and take in the wall of stone across Skyline Drive that is decorated with carmine Virginia creeper, golden birches, light purple asters, and still-emerald oaks and sassafras. At South River Overlook near mile 63, a big handsome red and yellow maple bends gracefully toward the view as if to present it to you, totally unaware of how stunning it is itself.

Sumacs throughout the Park are in different stages. These shrubs don't ever seem to play by the rules: in places where the rest of the woods are mostly green, sumacs might explode in unnatural-looking neon palettes; where the woods are every shade you can think of, the cagey shrubs might still be as green as Ireland. Sassafras trees are festive – turmeric gold in some spots, a candy bowl of tones – all on one tree – somewhere else. Along Skyline Drive scarlet Virginia creeper slithers over rock walls, as if trying to escape the lowlands and sneak across the road to safety. You might suddenly look up and catch a golden-orange hickory rising like a Jack-o'-Lantern into a turquoise sky – a scene so instantly lovely your next breath fails you and you gasp with glee.

Shenandoah National Park in autumn is nature's art gallery. Come on out and take in the show.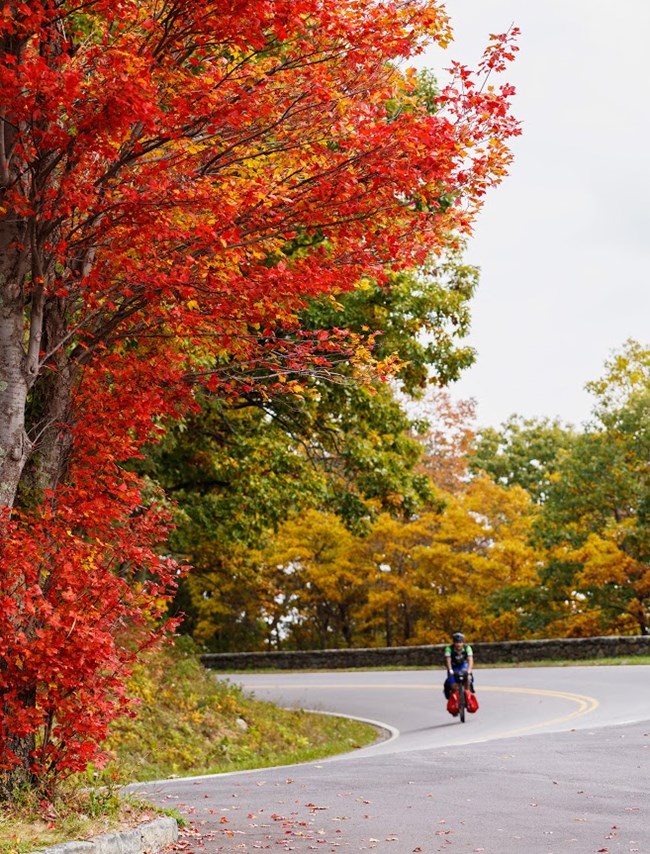 October 9, 2015
Fall color report for Friday, October 9, 2015.
"Fall has always been my favorite season. The time when everything bursts with its last beauty, as if nature had been saving up all year long for the grand finale."
~ Lauren DeStefano
If you're looking for gold, you'll find it in Shenandoah National Park this week. Hickories are dressing themselves, leaf by leaf, in clothes the color of sunshine. Goldenrods are finishing up their blooming season with dignity and a slight bang, as they take on Dijon mustard hues. Ashes and some maples are setting themselves ablaze – self-burnishing their leaves seemingly for your pleasure (or is it all for the pleasure of black bears, deer, squirrels, and the rest of the Park's resident wildlife?). Asters' otherworldly radiance – that electric purple-blue you will swear is plugged in somewhere – dapples the roadsides and overlooks.

As you drive through the Park's higher elevations toward its center, you will look out onto hillsides that look like needle-pointed ottomans on which the needle worker has stitched every conceivable bright color of thread – including, still, plenty of emerald greens. Higher peaks have donned tie-dyed fleece caps. Depending on how the sun hits certain trees – especially the oaks that stand alone at overlooks and parking areas – you might see polished copper or glazed terracotta. This part of the Appalachians Mountains where Shenandoah National Park lies has few of the maples that transform New England mountains and hills into mounds and bowls of red and orange Skittles. But occasionally you will round a turn on Skyline drive and a maple tree the colors of a bonfire will cause your heart to skip a beat – one lone Acer sending your whole nervous system into overdrive. At Meadow Spring parking, mile 33.5, there are two such maples – one in the parking area that is the colors of a ripe mango and one on the western roadside the color of tangerines. At Jenkins Gap (near mile 12) and Range View Overlook (mile 17.1), the colors are at that elusive peak – looking lit from within, multitudinous, crazy beautiful. If you drive north on the Drive and look up to the southwest hill just above Tunnel Parking Overlook (mile 32.2), you will see a tall tree whose trunk looks to have been swathed in barn-red paint; that's Virginia creeper, doing its thing.

Dogwoods (most of which are in the Park's lower elevations) are the color of garnets and rubies. Ashes are starting to glow from within, too, like dying embers – that faint ochre that somehow manages to be luminescent even as it demurs, incandescing shyly from within the plum-bronzes of the trees' outer leaves. Poison ivy vines are Javanese batik scarves, wrapped stylishly around the necks of oaks, pines, and hickories. Everywhere there are touches of light and popping color, like a Monet painting.

Come visit the Park and see this natural color show for yourself.

The fall color report will be updated next Friday, October 16, 2015.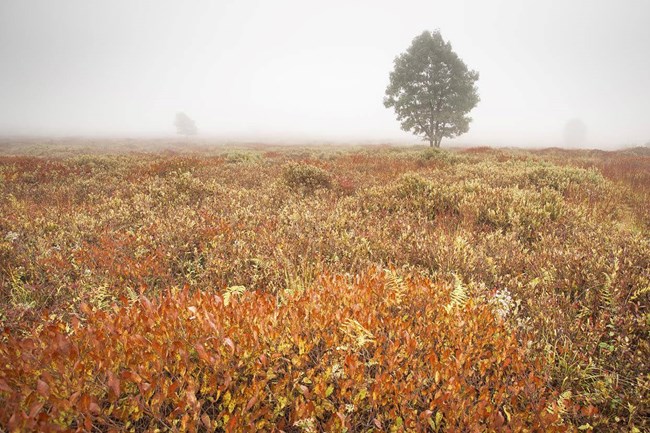 October 2, 2015

Shenandoah National Park Fall Color Report for Friday, October 2, 2015

"My Sorrow, when she's here with me,
Thinks these dark days of autumn rain
Are beautiful as days can be;
She loves the bare, the withered tree;
She walks the sodden pasture lane. …"

~ Robert Frost, "My November Guest"

Make no mistake, in Shenandoah National Park – and all along the Eastern Seaboard – today we are unequivocally submerged in some "dark days of autumn rain." But they need not be sorrowful, as Frost word-paints them. If you approach them with the right attitude, rainy autumn days can be causes for great delight. In other words, if you look for color and light, you will find it – even when it's pouring down rain.

The color is coming on in the Park, burning through the rain in fits and starts, like the opening sequence in the TV show "Bonanza." In the north district – between the Park entrance in Front Royal, Virginia, to Thornton Gap at route 211 – the leaves are still mostly green. But as you head south toward Thornton Gap you're going higher elevation wise, and so the color increases, too. (Remember: unlike spring, fall creeps down the mountain.) Larger patches of golden yellows, tangerine oranges, and scarlets greet you as you drive south. In the central portion of the Park – the highest elevations – those M&M colors are even more abundant and dramatic, especially around Skyland and Hawksbill – the Park's highest peaks. These are hickories and maples, sumac and Virginia creeper. When asked about how Big Meadows' colors are looking, especially as regards the copious rainfall and ensuing heavy fog, one ranger at Byrd Visitor Center (mile 51 on Skyline Drive, in the Park's center) responded, "The last time I saw the meadow – which has been a few days ago now – it was very colorful – reddish orange from the blueberry bushes, mostly." The northern end and toward the meadow's middle is turning red-orange – like a simmering pot of chili, taking on the hues of the spices that make it come alive with flavor. As you head farther south along Skyline Drive, into the southern half of the Park, trees are still green, but they're tinged ever so slightly with the colors of the season – faint bronzes, russets, and greenish-golds.

Still, there's no denying that if you were to visit Shenandoah National Park at this very moment (Friday afternoon, October 2), much of what you'd see, chromatically speaking, are the silvers, chromes, glimmering pearls, and slick sands and ecrus that days-on-end rain brings to the Blue Ridge Mountains. It's raining right now, and it has been raining for most of a week. And it's not supposed to stop raining for a few more days. If you choose to visit Shenandoah National Park in these "days of autumn rain," be cautious. Plan wisely. Heed the advice from Park Management posted on our Facebook page earlier this morning: "If you are planning to visit the Park this weekend, be advised that between the rainfall we've already had and what is predicted, we could have hazardous conditions. Power outages and downed trees and debris are common in the predicted situations. You may be required to shelter in place if the Park and/or Skyline Drive have to be closed. This may mean that once here you would not be able to leave. Please keep this and other safety cautions in mind when planning your weekend." Some parking areas have been closed due to flooding, and some ranger programs have been cancelled because they are not accessible in the rain and mud.

Be careful. Be safe. And take your color where you can find it.

The fall color report for Shenandoah National Park will be updated next Friday, October 9, 2015.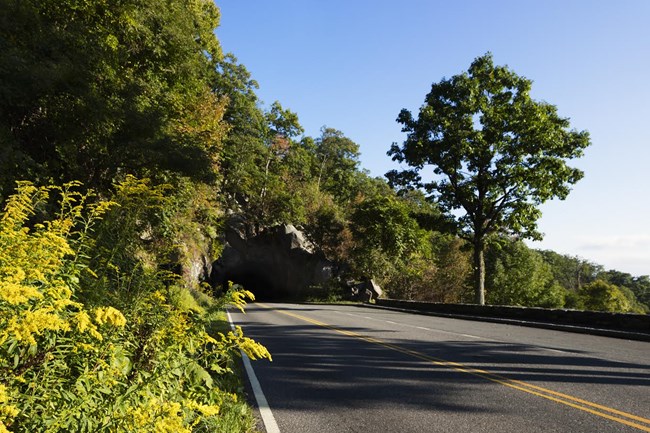 September 25, 2015
Shenandoah National Park fall color report for September 25, 2015.
"The goldenrod is yellow,
The corn is turning brown;
The trees in apple orchards
With fruit are bending down."
~ Helen Hunt Jackson, "September"
It's still early for fall, even at high elevations like those in Shenandoah National Park. The plane of autumn has not finished taxiing, but it has definitely touched down.

Goldenrods are yellow, and this is a good year for them. They're bright as French's mustard, more lush and frothy than they've been in past years, and they seem to be hanging out in crowds, everywhere. Asters are blooming, too, mixing their moonlit tones with the sunny hues of goldenrod. A few black-eyed Susans remain. Every few miles along Skyline Drive you'll see one brave, late-blooming Queen Anne's lace. These flowers still stand out against a sea of mostly dark green, although the sea's waves are crested with the golden browns and plums of grasses getting sleepy in preparation for winter.

Vines like Virginia creeper are turning dark crimson, almost burgundy. Sumacs' tips are just starting to glow their strange neons, like ladies at a party with freshly painted nails. Here and there, one branch of maple has decided for reasons unknown to the rest of us that it wants to be the color of cayenne, and so it is. At low elevations, like the very northern end of Skyline Drive and the southern portions around Loft Mountain (near mile 80) and south, dogwoods surprise you with their luxurious Pinot Noir garnets. The northern end of Big Meadows is taking on the shades of pumpkins and chili powder, while forests are turning the colors of citrus and vineyards –lemon yellow, lime green, Chardonnay, and ready-to-cut hayfields.

There's still a lot of green in these mountains. The summits and hollows of Shenandoah just recently got a little rain, and that has helped things green up a bit –for now. But once fall touches down on the Blue Ridge, she tends to deplane quickly, so to speak, and so these next few weeks will see her full arrival. We'll watch her strut down the red carpet of autumn together.
Please remember that these fall color reports are just that –reports on real-time seasonal color changes in this 105-mile-long, fairly skinny, varying-elevation, 300-square-mile Shenandoah National Park. When nature is in riotous color in one part of this gloriously beautiful place, she might be already disrobed in another high part of her anatomy, or still wearing the greens of summer somewhere else along her lowest reaches. This fall color reporting business is not science and prediction;it is commentary.

Check back next week to see how things are progressing. These fall color reports will be updated by noon every Friday from now through at least the end of October. Come see the crayon box that is Shenandoah National Park!
Last updated: October 19, 2017