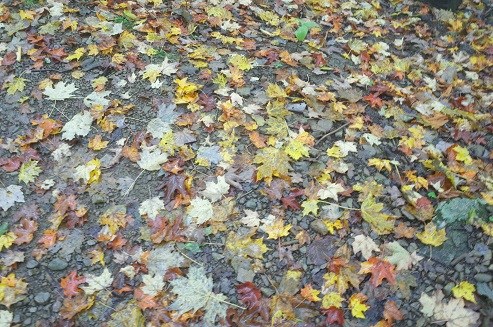 November 14, 2014
"My sorrow, when she's here with me, thinks these dark days of autumn rain are beautiful as days can be; she loves the bare, the withered tree; she walks the sodden pasture lane."
~ Robert Frost
Finding fall color in the area of Shenandoah National Park this week is like looking into a big vellum gift bag for a couple handfuls of M&Ms; it's there, but at the bottom of everything, in the lower depths. What you'll find if you come to Shenandoah National Park anytime in the next week or two is that most of the color at the highest elevations is gone. But if you pull off at some of the overlooks along Skyline Drive and look out into the Piedmont or the Shenandoah Valley, you're still going to see some brilliant dots dappling the bottoms of hollows. Some of them are pretty dramatic hues, too – backlit golds, moody plums, scarlets, and bronzes, russets the color of a pretty redhead's hair. If the sun is hitting those trees with leaves still left on them, you can still be mesmerized by the glorious array of colors here and there. That's what overlooks are for, so pull off and take a look as often as you can.

Don't forget to look down. On the ground you might find some bright colors still, artistic spatterings of leaves that have fallen. Be careful as you hike on downed leaves, as they can make the trails very slippery and dangerous, especially on rocks and when the leaves and ground are wet. But they're so pretty – like designer mulch made by nature.

Winter is coming. It's much closer than it was last week this time. The winds have picked up, and they're chilly. They smell and sound of snow. They are almost visible, conveying moods and emotions – the natural body language of the coming winter – melancholy lavenders, icy blue-whites, frosty silver-grays. The leaves that have fallen seem to come to life with the winds, twirling and tumbling along trails and across parking lots and Skyline Drive. Deer, when you see them, have put on their dark-taupe winter coats, and seem to bustle into food-finding, keeping-warm mode. Birds are somber seeming – dark gray juncos, black crows and ravens, dark vultures. Occasionally you might spot a red-tailed hawk or barred owl perched high in a leafless oak, looking for a rodent meal. Bright colors have faded and become darker, stoic, just a tad contemplative and gloomy – the colors of sleep and rest and getting ready for warmer months ahead.

Rest assured, those warmer months are coming.

This is the last fall color report for Shenandoah National Park for 2014. Fall color reports will begin again next autumn, probably the last week of September.

Have a safe and wonderful winter.