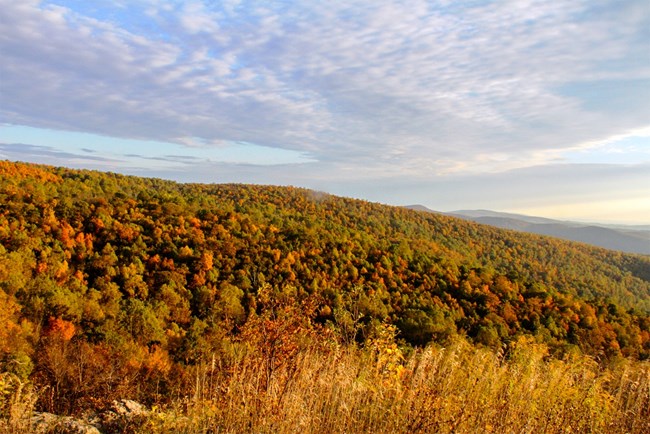 October 31, 2013
Johnny Mercer wrote in his song Autumn Leaves, "The falling leaves drift by the window, the autumn leaves of red and gold." For the most part, the autumn leaves have indeed drifted by the windows of campers, lodges, and dining rooms, at least in the mountains that comprise Shenandoah National Park. That is to say, the inscrutable peak of fall color on the ridge has come and gone.

But take heart! There's still plenty of color to be seen if you visit Shenandoah any time in the next few days. Sure, you're not going to find yourself standing under maples and oaks glowing with the blazing hues of early fall – fiery gold, Day-Glo orange, Atomic Fireball red. But when you gaze out from peaks like Compton, Hawksbill, Turk Mountain, or from overlooks along Skyline Drive like Range View, South River, or Trayfoot Mountain, you're still going to see lots of color. The lower elevations – the foothills of the Piedmont to the east and the Shenandoah Valley to the west – are still smoldering with the hues of a spice cabinet – cinnamons and cocoas, paprikas and cayennes, turmerics and cumins, even some dillweeds and filé powders, the greens that have either not yet begun to turn color or will never turn because they are evergreens like pines and a few hemlocks. There is still a wealth of hues on the hillsides and mountainsides, in the hollows and folds of these mountains. And standing atop a ridge or at an overlook in Shenandoah National Park is the perfect place to see those colors and watch them change like the natural kaleidoscope that is autumn in the Blue Ridge.

So, though the colors are fading, blowing away, and falling on the mountaintops, they are still luscious and well worth the trip in the lower elevations. That is to say, it's not too late to catch the beauty of fall in Shenandoah National Park. "Soon [we'll] hear old winter's song," yes, but right now the hills are still very much alive with the flame and smoke and iridescence of fall.

We hope you have enjoyed the weekly fall color reports. This is the final report for this year.