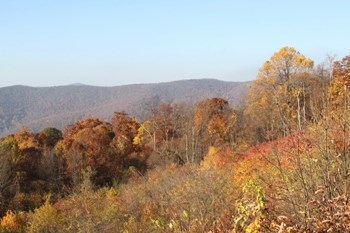 October 26, 2012
Fall color report for the week ending Friday, October 26, 2012

Fall color in Shenandoah National Park is well past peak in the higher elevations (between Skyland Resort and Big Meadows), and is just past peak in the lower elevations. However, there is still plenty of color to be seen here. The sassafras, sumacs, poison ivy, and Virginia creepers are still providing lots of vivid color throughout the park, and some of the oaks are at their loveliest now, wearing their muted shades of rust, cider, saffron, and cranberry - a Thanksgiving plate of hues.

But 'muted' is definitely the word of the week now, when it comes to fall color in Shenandoah National Park. Most of the vibrant oranges and scarlets and bright golds have blown away or fallen to the forest floor, especially in the Park's higher areas. Warm browns and cinnamons have replaced most of the more fiery colors of autumn in the Blue Ridge Mountains. Some lavender and white asters are hanging on, still blooming, but many have finished flowering for the year and won't be seen again until next fall. The milkweed pods have opened and are showing - and releasing -- their ghostly white, downy insides.

This is a great time to visit Shenandoah National Park! October crowds are beginning to thin out and it's not yet gotten bitterly cold. The vistas are wider because the leaves are gone; you can see for miles and miles, across the Shenandoah Valley and the Piedmont. The air is clear, the skies are often bright blue, and you couldn't ask for better hiking weather. Plus, it's hard to beat the fun sound of leaves crunching underfoot as you tread the park's trails!

We hope you have enjoyed this year's weekly fall color reports. This is the last update to the fall color report for this year.