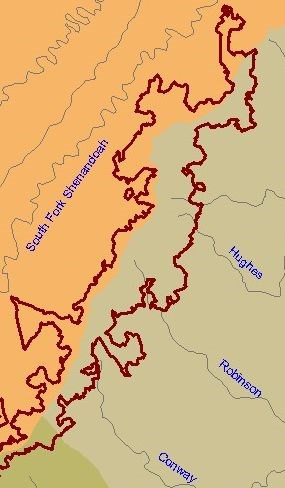 At the broadest hydro-physiographic level, terrain in Shenandoah National Park comprises a portion of three major river systems in the Mid-Atlantic area (Shenandoah/Potomac, James, Rappahanncock). Each of these rivers flows into the Chesapeake Bay. As such, they constitute a significant portion of the greater Chesapeake Bay Watershed.

Within park boundaries there are 70 watersheds. Park staff is in the process of developing attribute information for each of these watersheds including basin width and length, main channel length, stream density, land use, and elevation. Watershed sizes range from 0.2mi2 to 12.1mi2. Most are in the range of 1-2mi2 in size. There are 42 watersheds on the west side of the park and 28 on the east side.
Related Information
For information on the watersheds and their protection go to:
Virginia Lakes and Watersheds Association

Virginia Places description of rivers and watersheds

Center for Watershed Protection

Listing of these websites does not and is not intended to imply endorsement by the National Park Service of commercial services or products associated with the sites.