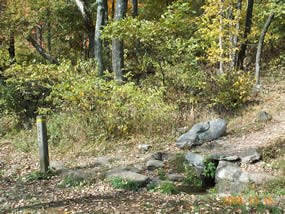 Current, clear information regarding the location and condition of springs and seeps is lacking for Shenandoah National Park. One report (DeKay 1972) indicates that there are as many as 854 surface water sources in the park. It is unclear whether or not this number represents springs alone or if other surface waters (streams primarily) are included. Most information about springs in the park has focused on roughly 70 springs that are located near Skyline Drive or along the Appalachian Trail. Park staff members have prepared a request for funding to support an investigation to learn more about these important water resources.
Public Health Connections
Water at springs and seeps can contain microbes which can make humans sick, even if wildlife drink it without serious effects. All backcountry water, including spring water, should be boiled for at least one minute, filtered, or treated with purification tablets before drinking.
Related Information
One useful reference specific to Shenandoah National Park containing information about springs is:
DeKay, R.H. 1972. Development of ground-water supplies in Shenandoah National Park, Virginia. Mineral Resources Report 10. Virginia Division of Mineral Resources. 158pp.
A general reference to springs in Virginia is:
Weigmann, D.L. et. al. 1993. Springs of Virginia: a guide to spring management and protection. Virginia Water Resources Research Center, Virginia Polytechnic Institute and State University, Blacksburg, Virginia.