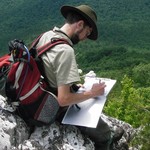 Shenandoah National Park Trust Research Grant Program
Supporters of the
Shenandoah National Park Trust
have generously donated to fund an annual grant for scientific activities. This program will support field research in the physical, biological, ecological, social, and cultural sciences. The intent of this grant is to support projects conducted in the park and helping to answer questions important to park resources.
Grants are managed by Shenandoah National Park and up to $15,000 will be awarded.
Shenandoah National Park offers an ideal natural laboratory in which to study a wide variety of research topics. Important science issues at the park include, but are not limited to, air pollution, water quality, habitat fragmentation, invasive exotic species, rare species conservation, recreation impacts on visitor experiences and natural resources, restoration of disturbed natural and cultural landscapes, and a lack of baseline data about the park's natural and cultural resources. Shenandoah National Park offers a diversity of landscapes, including hardwood forest, rocky outcrops, mountain streams, and open meadows.
Important Dates
September - Announcement - Begin accepting applications
October 31, 2016

-
Applications Due
December 15, 2016
-
Grant Award Announcement