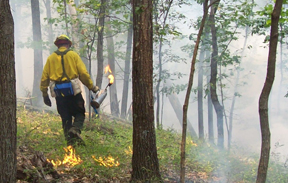 A prescribed burn follows a very carefully designed plan that fire management specialists have spent months or even years developing. Careful consideration is given to the size of the area to be burned, the type of vegetation present in the area, the amount of personnel and type of equipment needed to manage smoke and fire behavior, and the weather and wind conditions needed in order to conduct the burn safely. If any of these conditions are not within the prescription, the burn will be postponed until a later date. The professionals who carry out the prescribed burn have extensive training in how to protect surrounding communities, themselves, and the park's resources.
Shenandoah National Park carefully plans prescribed burns in order to encourage healthy forest environments and to keep visitors, neighbors, and staff safe. Prescribed burns are used to: keep woody vegetation down, so that the views on overlooks stay visible; maintain the natural open spaces of grassy areas and meadows; and reduce the risk of dangerous wildfires from an overabundance of fuels such as bushy understory growth and dead and downed woody debris.
Neighboring communities are notified by park staff about the park's intent to complete a prescribed burn in their area. However, neighbors and visitors should notice very little interruption of services. At the time of the burn, certain roads, trails, or visitor areas may be closed if they run too close or through the intended burn area. Smoke is probably the most visible result of a burn; if it becomes heavy in some areas, certain roads may be closed or limited to one-lane traffic.