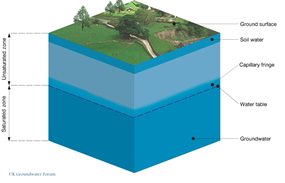 Two significant publications (DeKay 1972, Plummer et al 2001), fully cited below, provide both general descriptions of groundwater conditions throughout the park as well as specific conditions in the Big Meadows area. Groundwater withdrawal and condition are of particular interest because of relationships between high elevation ridge tops that tend to receive more moisture but that do not accumulate the water, presence of visitor use facilities along the crest of the ridge with associated high demand for potable water and withdrawal problems, and potential exposure to pollutants.
Related Information
Useful references specific to Shenandoah National Park groundwater are:
DeKay, R.H. 1972. Development of ground-water supplies in Shenandoah National Park, Virginia. Mineral Resources Report 10. Virginia Division of Mineral Resources. 158pp.
Plummer, L.N., E. Busenburg, J.K. Bohlke, D.L. Nelms, R.L. Michel, and P. Schlosser. 2001. Ground water residence times in Shenandoah National Park, Blue Ridge Mountain, Virginia, USA, A multi-tracer approach. Chemical Geology, v. 179/1-4, pp. 93-111.