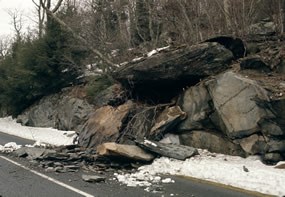 The casual observer may sense that there is no geologic activity at Shenandoah National Park. Certainly there are no active volcanoes or glaciers, but geologic events do occur here. Freezing and thawing result in rockfalls and spawling from cliff faces. Severe thunderstorms and hurricanes can produce large quantities of rainfall, which, in turn, causes flooding and associated erosion as well as landslides. Most often these events are relatively small. At times, forest disturbances seem to conspire with one another. A wildland fire may kill trees. An ice storm or windstorm may bring those trees down, partially up rooting them from the ground. This might set circumstances up for a severe rainstorm to cause significant erosion and mass wasting. Clearly both the forest and the landscape it occupies are undergoing constant change.
Related Information
A website that provides helpful information about geologic activity is:
US Geological Survey/National Park Service Weathering and Erosion Site
Listing of this website does not and is not intended to imply endorsement by the National Park Service of commercial services or products associated with the site.