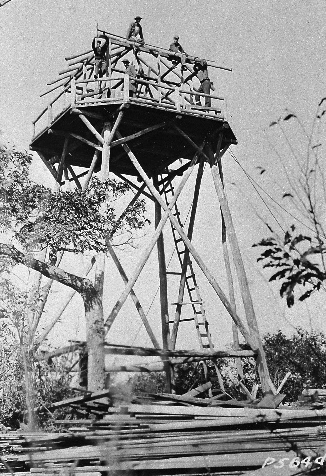 Fire in Shenandoah

One of the first duties of the Civilian Conservation Corps when they arrived in the Blue Ridge Mountains in 1933 was fire supression. They built fire towers and manned them around the clock, scanning the horizon for any hint of smoke.Fire crews attacked whenever fire was detected and stopped the destruction as quickly as possible.
Meanwhile, the residents who were living on the land that would become the park were still intent on their annual burning of the blueberry bushes and meadows where their cattle grazed. The knew that fire helps many plants regenerate and keeps unwanted plants from taking over graze land.
Today, national park managers know that both the CCC and the residents were doing the right thing. Unwanted fires caused by lightning or people are inevitable, so the role of Fire Professionals today is to plan for and prevent conditions under which fires can threaten public safety, devastate property, or damage natural and cultural resources. Their role is also to help restore and maintain natural and cultural landscaping using fire as an effective management tool.