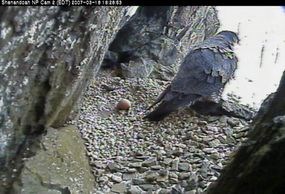 Nesting Information 2007:
Pair were around off and on all winter but began courtship in late February.
First egg was laid: 3/12/2007.
First egg lost: 3/15/2007
unknown reason.
Pair moved to nearby scrape Nest#2 3/17/2007 and laid a new egg.
Second Egg Lost: 3/20/2007
Possibly a racoon.
A racoon was trapped and relocated from the area. The falcons have been showing some interest in a third nest site (camera 3) but no additional eggs have been seen.
Male seen of and on through out the summer and early fall.

The male and the female adult were seen at the cliff site 11/14/2007 exhibiting pair bond behavior and nest defense.
Link to Webcam Image Archive