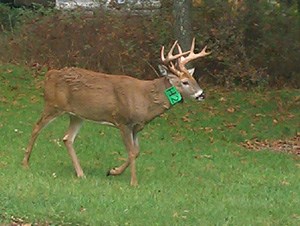 What is Chronic Wasting Disease?
Chronic Wasting Disease (CWD) is a neurological and contagious disease that affects deer, elk, and moose.
Can Humans Get CWD?
Though many observers try to compare CWD with "mad cow disease", they are distinctly different. Currently, there is no evidence that CWD poses a risk for humans; however, public health officials recommend that human exposure to the CWD infectious agent be avoided as they continue to evaluate any potential health risk. The World Health Organization has reviewed available scientific information and concluded that currently there is no evidence that CWD can be transmitted to humans.
Can Livestock Get CWD?
Cattle and other domestic livestock appear to be resistant to natural infection. There are no reported cases of natural transmission of CWD from infected elk or deer to domestic livestock. However, the disease has been experimentally reproduced in cattle by the direct injection of the infectious agent into their brains. Several investigations are currently underway to further study this question.
How does it affect the deer?
CWD is generally fatal. Infected deer's brains degenerate, causing them to become emaciated, display abnormal behavior, and lose control of bodily functions.
Do deer in Shenandoah National Park have CWD?
There are currently no cases of CWD in Shenandoah National Park. The closest case is in Virginia approximately 30 miles from the park. Because of the contagious nature of this destructive disease, Shenandoah scientists must plan for CWD detection and management of the deer herd if infection should occur.
What is the park doing about CWD?
The park is working with several partners to develop a plan and environmental assessment to respond to CWD. The purpose of the plan is to develop a range of strategies for detecting and responding to CDW. You can track the development of this plan on our website at https://parkplanning.nps.gov/projectHome.cfmparkID=274&projectID=17627
The park is also conducting a Research Program in cooperation with the Wildlife Health Center of the United States Geological Survey (USGS). The purpose of this program is to learn more about Shenandoah's deer herd population and movement. As part of the program, about 50 to 70 deer will be tested for the disease and then tracked through ear tags and radio collars. How many deer are tagged? Up to 70 deer will be tagged and/or collared. As of mid-October, 15 were radio collared (6 bucks and 9 does) and 20 were ear tagged (1 buck and 19 does).
Where will I see tagged deer?
Because scientists need to test and monitor deer in high density areas, visitors will see them in the areas of Big Meadows, Mathew's Arm Campground, Skyland, Rapidan Fire Road, Elkwallow Wayside, and Dickey Ridge.
How did Shenandoah decide to implement this study?
The Wildlife Health Center, a branch of the USGS, has been tracking CWD. Their scientists submitted an application to conduct this research program. The application went through National Environmental Policy Act (NEPA) compliance procedures.
What is the purpose of this research study?
The purpose of the study is to understand deer density, deer movement, and to determine whether Shenandoah's deer herd has been infected with CWD. Obtaining this information will help the park plan for managing the park's deer herd in light of this disease.
How does this research program affect the deer?
Although there is some stress associated with capturing and tranquilizing the deer, there is little to no lasting impact. A reversible anesthetic is used so deer are generally able to resume normal functions within 15 minutes of receiving the reversal drug. A relatively small number of deer will wear tags and/or radio collars for the duration of the two-to-five-year study. All techniques and equipment have been reviewed and approved by wildlife scientists and veterinarians.
What equipment is used?
Some of the deer are fitted with radio collars and others are tagged. Radio collars weigh less than one pound. Expandable collars were chosen to allow room for neck swelling in bucks in the fall and growth in younger deer. Large tags are used to allow park staff to identify deer from a distance to alleviate stress of human contact. The equipment will remain in place for the duration of the two-to-five-year study.
What's next?
This study will inform the park's plan for managing the park's deer herd in light of this disease. Management plans require several steps of review. You can follow this process at https://parkplanning.nps.gov/projectHome.cfm?parkID=274&projectID=17627