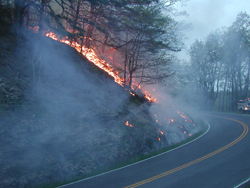 Did you notice a burned area near Blackrock summit in Shenandoah National Park's South District? A small patch of black is now visible in the seemingly endless sea of green. This was not the result of a lightning strike or a careless camper. It was a fire set by park managers to help oak trees and table mountain pines thrive.
On May 7, 2008, conditions were right for fire managers to burn 282 acres. Fire crept on the ground, burst out in bushes, and torched entire pine trees. Flames cleared out brush and opened up sections of the canopy. This is especially good for the Appalachian native, table mountain pine. This pine has tightly closed cones that open after fire, releasing tiny seeds. Table mountain pine seeds need bare soil and sunlight to grow.
Months of planning went into preparing for the prescribed fire. These kinds of burns are set by trained personnel under certain conditions. Fuels cannot be too wet or too dry. Temperature, humidity, wind speed, and direction are all important when deciding if a fire will be ignited. Firefighter and public safety is of the utmost importance.
The sun now shines through to the forest floor. Tiny oak and table mountain pine seedlings sprout from the ashes. The dark scar in the distance will slowly fade as new life begins.