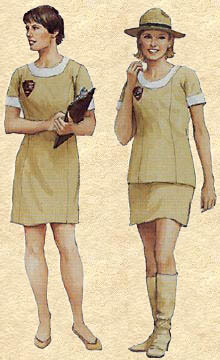 The Way We Were:
Women and the National Park Service
by Reed L. Engle and Carrie Janney-Lucas
As the National Park Service approaches its centennial year, few people remember that for the greater part of its history Service women did not have the right to "look like a ranger." Not until 1978 were women allowed to cast off their unique polyester knit, "fast food worker's" uniforms (Bicentennial replacements for the earlier "stewardess" garb), and wear the same official uniform Service men had always worn. They also were given the right to wear the official badge, as opposed to the former diminutive replica, and the regular, rather than the earlier lightweight and flimsy, Stetson. It had taken sixty-two years, an Act of Congress, a ruling by the U.S. Attorney General, and much quiet internal protest for women to gain the right to be perceived by the public as National Park Service rangers.