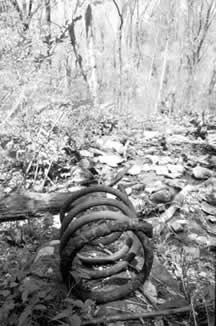 Thoughts on Whiskey

by Reed Engle, Cultural Resource Specialist
NOTE: The park museum collections include several beautiful copper stills of varied forms—rectangular, square, and ovoid—along with the corresponding copper "worms." Earthenware jugs and stills were used in the past as "humorous" display objects to ridicule the "moonshining mountain folk", but in reality they represent the final chapters in a centuries-old American agricultural tradition.
The 18th Amendment to the U.S. Constitution would not have been ratified in an earlier age. Although there had been vocal forces in the 1830s advocating prohibition, the population was then too rural and too agricultural to support a movement that threatened a significant element of farm and homestead economy. By 1920, the majority of the electorate was no longer dependent on radically shifting agricultural market economics, the transportation system had improved, and the national taste for "demon rum" had changed, although not abated.
Alcoholic beverages were the coffee and cola upon which the frontier was tamed.
Tree fruits were grown primarily to drink, frequently to feed hogs and only incidently to eat. Our...forebears were prodigious drinkers of a great variety of liquors, fermented and distilled. They viewed waters, for drinking purposes, with deep suspicion if not aversion....The requirements of a family were from ten to fifty [31.5 gallon] barrels [of cider] annually. In almost every farm home a barrel of hard cider was constantly on tap. Foaming pitchers were brought to the table at every meal. When milk was scarce small children drank diluted cider.
And apples and other fruit were not the only source of the liquid staple.
For nearly a century a considerable proportion of the corn and rye produced in Pennsylvania was marketed as whiskey. This...liquor was the almost universal beverage of men, women, and children. There was little or no moral or religious sentiment against it then.
Lest it be thought that Pennsylvanians had an unusual habit, a 1785 letter from John Joyce to Robert Dickson should set the issue to rest:
As to the Drink chiefly used in this collony [Virginia], it is generally Cyder, every planter having an orchard; and they make from 1000 to 5 or 6000 [gallons] according to their rank and Fortune... the very meanest and hilly Lands are proper for the Peach tree, every planter almost having an Orchard of these trees, the Brandy made from that Fruit, I think, is excellent and they make it in sufficient quantities.
The Carter family of Nomini Hall typically consumed 560 gallons of rum and 150 gallons of brandy in a year—the extent of hard cider and beer consumption was not noted by their tutor in his journal although their use was noted.
Habit and custom, however, were also driven by simple economic forces. Agricultural commodity prices were tremendously variable in the 18th and 19th centuries: good crop years were often rewarded with declining prices in a time before Federal price supports. Thus alternative and derivative products were made:
...they began to distill the [rye] flour, getting 10. galls. of whiskey from the barrel & consequently more than we can get at Richmond for the new.
Jefferson, ever one to experiment in his agricultural and horticultural activities, brewed beer, and in 1792 saw the value in liquid grains:
As I propose to purchase a still here for the use of my plantations, & understand there is a good deal in the size, proportion & number of the vessels, I take the liberty of requesting you to inform me what particulars I had better provide. I make this appeal...proposing nothing more than the distillation of my own grain & fruit.
Divers responded to Jefferson that he "would advise you to purchase One Still that would work 85 one of 45 and a Copper Kettle of Sixty Gallons with these Stills and Boiler you may make from 70 to 80 Gallons of whiskey p Week & feed 60 or 70 Hogs [on the spent mash]...."
Fresh vegetables and fruit were rarely grown for the markets of the 18th and early 19th centuries. Market reports carried in the newspapers of the day often noted prices for dried fruits (particularly apples and peaches), but consistently reported the price of hard cider and peach brandy. Fletcher notes in Pennsylvania Agriculture and Country Life (p.290) the importance of liquid grain as an economic staple:
There was a time...when whiskey was the one commodity that had a standard value and all the mediums of barter and exchange, such as corn, salt, tobacco, etc., were valued in accordance with the amount of whiskey they could fetch. When coin was almost unknown...a whiskey still was as necessary as a grist mill...Nearly every fifth or sixth farm had a copper still.
The third driving force for the production of whiskey, brandy, and hard cider was the limitations imposed by transportation. Roads in rural areas then, and in some areas today, were not supportive of significant agricultural commerce. "Whiskey was the only farm product that it would pay to transport over the Alleghenies to Philadelphia and Baltimore. A pack-horse could carry twenty-four bushels of rye as whiskey but only four as grain."
A typical horse or mule-drawn farm wagon typically held thirty bushels of apples, weighing 1440 pounds and occupying 141 cubic feet of space. Pressed as cider, the weight was reduced to 502 pounds; the volume to 7.6 cubic feet. As distilled applejack the original wagon load yielded 11.4 gallons weighing about 100 pounds, a reduction to 1.1 percent of the original space and 7 percent of the original weight. Transportation of the distilled product was both practical and economically advantageous.
Although much of America had improved roads by 1920 when the 18th Amendment passed, many very rural and mountainous areas remained where the driving economic and social forces of the 18th and 19th centuries still held sway and the copper boiler still turned bulky crops into liquid gold.