Rapidan Camp
The National Park Service protects some of America's most special places including the homes and birthplaces of many of our presidents. Among them is the summer retreat of President Herbert Hoover, Rapidan Camp, in Shenandoah National Park.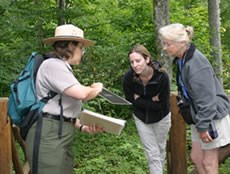 Exploring Rapidan Camp
Shenandoah National Park offers a 2.5 hour ranger-guided tour of the Hoovers' presidential getaway late spring through fall. Visit the Ranger programs page for dates. Reservations are required and can be made online at Recreation.gov or by calling (877) 444-6777 (10:00 am to midnight EST.) Request the "Special Tours" category and specify Rapidan Camp. Reservations can be made up to six months in advance.
The camp features the president's cabin, The Brown House, which has been historically refurnished to its 1929 appearance. An exhibit located in the historic Prime Minister's Cabin offers visitors insight into the Hoovers' lives and their time at Rapidan Camp, as well as Herbert C. Hoover's Depression-Era presidency.

Even if you can't make it to see Rapidan Camp in person, you can still explore it through our interactive feature A Retreat Fit for a President.
Visit our keyboard shortcuts docs for details
Duration:

3 minutes, 3 seconds
Rapidan Camp, the summer retreat established by President and Mrs. Herbert Hoover during his administration is located within the boundaries of Shenandoah National Park. The camp has recently been restored to its 1929 appearance and is an excellent reflection of not only its era, but also of President Hoover.
Last updated: February 6, 2019