Distance Learning
A Retreat Fit For A President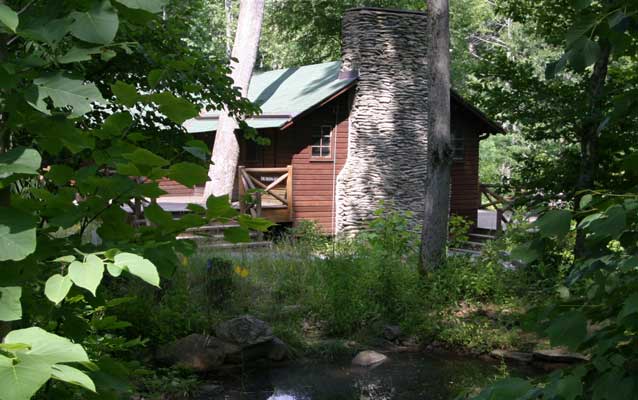 Herbert Hoover, the 31st president of the United States, bought the land for his summer weekend retreat in 1929, during the first peaceful days of his administration. The camp provided Hoover and his wife much needed rest and recreation during the later difficult years, after the stock market crash in October 1929 signaled the beginning of the worst depression the nation had ever known.   

Overview 
Through a combination of short movies and interactives, the unit covers the events leading up to the Great Depression and describes Hoover's approach to the crisis. Students then delve into the basis of Hoover's personal and political philosophies and take an in-depth look at how the camp itself reflects them. Recognizing Rapidan as a tangible example of those important philosophies helps students understand the importance of history and the places that preserve it.

This unit is the first in a two-part curriculum that connects the nation's history with the unique resources of Shenandoah National Park. The second part is CCC: A New Deal to Rebuild a Nation. Also intended for middle and high school students, it covers the subsequent time period of Franklin Roosevelt's presidency and his political philosophies in contrast to Hoover's.

Objectives
At the conclusion of the lessons, the students will be able to
present a journal with recorded insights, ideas, and revelations about Hoover and his impact on their world.
identify historical, social, political, and technological changes in America from the 1870s to the 1960s.
locate Rapidan Camp and determine the location's significance to the Hoovers, the local residents, and the country.
verbally, intellectually, graphically, and physically make the connection between the Hoovers, their Rapidan Camp, their conservation and humanitarian ethics, and their belief in personal responsibility.
explain how historic preservation was accomplished at Rapidan Camp while securing the historical integrity of the site.
synthesize the Hoover information and predict what future generations will/should/could gain from the Hoovers and their Rapidan Camp experience.
How to Participate
This curriculum is a web-based interactive program. Each lesson contains an introductory movie and an interactive component. Throughout the program students are asked to respond in a variety of ways in a journal. The journal can then be used by the teacher to assess the students' understanding and assimilation of the material presented.
The program can be used in its entirety; each lesson builds on the previous. However, if time is limited, teachers are encouraged to excerpt the parts most relevant. The entire curriculum is accessible through Shenandoah National Park's website, so students could continue the activities on their own.


Details
Subject:

Geography, History, Social Studies

National/State Standards:




type:

Distance Learning