Kindergarten - Come to Your Senses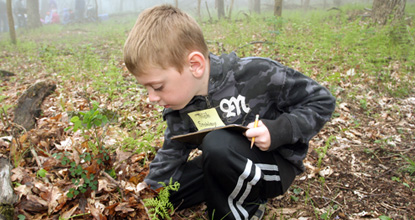 Overview
A child investigates the world and learns about his/her surroundings through the five senses. Shenandoah National Park, with its abundance of flora and fauna, diversity of habitats, and variety of animals is a great place to expand a child's sense of wonder and develop observation skills through hands-on discovery and nature experiences. Students will learn stewardship behaviors and find ways they can help protect and preserve the environment.
Objectives
Following the park experience and classroom activities, the students will be able to
1. name their five senses and point to the organ used;
2. use sensory descriptors such as rough, color, loud, bright, to identify and describe natural objects found both at school and in the park;
3. understand what a national park is and that its mission is to preserve and protect the resources within;
4. explain how stewardship practices help protect Shenandoah National Park and home communities.
Virginia Science Standards of Learning Addressed
Strand: Scientific Investigation, Reasoning, and Logic
K.2 - Students will investigate and understand that humans have senses that allow one to seek, find, take in, and react or respond to information in order to learn about one's surroundings. Key concepts include
a) five senses and corresponding sensing organ (taste – tongue, touch – skin, smell - nose, hearing – ears, and sight – eyes): and

b) sensory descriptors (sweet, sour, bitter, salty, rough/smooth, hard/soft, cold, warm, hot, loud/soft, high/low, bright/dull).
Strand: Resources
K.10 - The student will investigate and understand that materials can be reused, recycled, and conserved. Key concepts include
a) materials and objects can be used over and over again;

b) everyday materials can be recycled; and

c) water and energy conservation at home and in school helps preserve resources for future use.
Last updated: February 26, 2015