Plan A Field Trip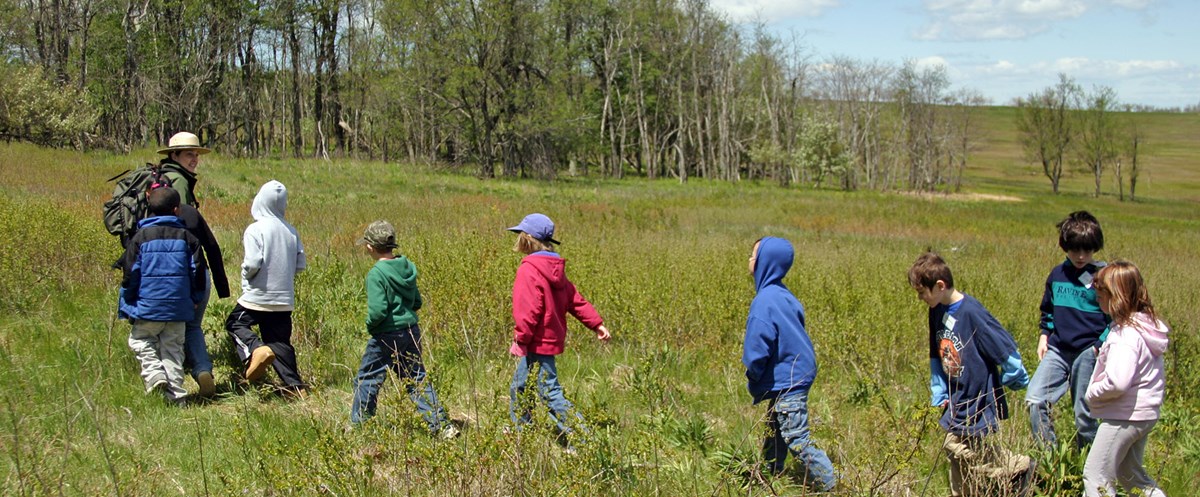 Watch this short video to learn about the topics you can explore during a field trip, how you can start planning, and what to expect once you get out in the park with your group.

Duration:

5 minutes, 49 seconds
Where to Start
Shenandoah National Park offers a variety of field trip opportunities. Planning ahead and preparing your group will help make the park visit a memorable, fun, and safe learning experience for you and your students. The first step is determining what type of field trip experience you would like for your students at Shenandoah National Park.
Ranger-led Programs
Ranger-led programs are science curriculum-based, two hour programs for groups of up to 60 students. Prior registration is required and space is limited each season.
Self-guided Programs
Self-guided programs are pre-established curriculum-based programs that are generally focused on science or social studies. Prior registration is only required if you need materials from the Education Office.
Create your own experience
The Education Office can provide local school groups and academic institutions with an academic fee waiver for visits that are for educational or scientific purpose. This fee waiver allows full access to the park. This option allows the largest breadth of experiences for your students. If you need any assistance in planning the experience, please contact the education office.
Contact Us
Contact the Education Office to schedule a program or for more assistance on planning a program.
Email: email us at shen_education@nps.gov
Phone: (540) 999-3500 ext. 3489

Directions to Shenandoah National Park
Teaching Outdoors
Why use the outdoors?
Teaching out-of-doors supplements classroom/textbook instruction with a hands-on, sensory based experiences.
It provides an opportunity to help children develop an awareness and appreciation of the natural world.
It's fun!
Basics of Outdoor Teaching
Teach attitudes, not just facts. Stress the larger concepts rather than just the names of things and specific facts. Example: It is more important to know the different roles, helpful or harmful, that insects play in the environment than just that insects have six legs, 3 main body parts, and 2 antennae.
Explore together. You don't need to know all the answers. If you don't know the answer to a question, use the opportunity to learn with the students. Often, it is more productive if you let the students discover the answer for themselves (even if you don't know the answer).
Use the senses. Students are more likely to remember if their senses are involved in the learning process.
Be flexible. Use "teachable moments" when they come up. Imagine that you are trying to teach the class about stream ecology when a deer comes to the stream for a drink. Do you ignore the deer? How do you tie the deer into your lesson?
Plan your field trip thoroughly.
Keep your class under control. Safety comes first! Know the rules and regulations at the field trip location. Let your students and chaperones know before the trip what you expect of them.
An important point to remember:
A child that asks "What's that?" is usually looking for more information, not just a label or name. The same is true of you, too. Think about this scene: you're sitting at home alone, reading. The house is quiet. Suddenly you hear a rustling sound, like dried leaves, then a high pitched squeal over a clatter of metal. You jump up in fright, gasping, "What's that?" Are you really asking for the scientific name of the creature lurking near your house? Or are you asking for more specific information to piece together, leading to a logical conclusion: it's only the neighbor's cat tipping over the trash can.
Tips for Sensory Awareness
Guide the students to make their own observations and discoveries using their senses. Avoid telling them what they are observing.
Don't be afraid to admit that you don't know the answer to a question. Search for the answer together, and you will both learn!
Use good questioning strategies to get the students thinking about their discoveries. Don't just concentrate on what it is, get them to think about why it is. Concepts are more important than just names and facts. Remember: No living or non-living thing on this planet had a name until humans began sorting and classifying. Experience in the natural world will always be primary.
Find facts later. If students are motivated, encourage them to research information when they return to school. Memories of the object can remain vivid if students jot down observations and/or draw pictures.
Steps for the Best Field Trips Ever!
Plan everything well in advance. Call to schedule the field trip or request an educational fee waiver, get a confirmation, and make necessary arrangements for school and parental permission and transportation.
Plan the educational experiences and activities for the field trip. Share this with all the teachers and chaperones involved.
Make field trip planning part of in-class learning. Use pre-visit activities to help prepare the students for the field trip.
Get the nuts and bolts before you start. Know how to get to the field trip site, how long it will take, and where you will have lunch. Bring along any supplies and materials needed for activities that you have planned.
Develop very clear learning objectives and share them! Make sure that the students and other teachers know these objectives.
Chaperoning is not a spectator sport! Chaperones can be a big help if they understand their role.
Use nametags on everyone! Make sure that even the teachers and chaperons are wearing readable nametags. It also helps to divide large groups into smaller sub-groups before the trip and color code their name tags.
Keep the students engaged. Encourage the students to participate in the activities but remember you are responsible for their behavior.
Keep students accountable for learning. A field trip is not a day off from school! Did you accomplish the planned learning objectives?
Encourage independent observation time. Constructive free time can help make the trip more memorable.
Bring the experience back home. Use post-visit activities back in the classroom to make the field trip relevant and reinforce concepts.
Use evaluations and sharing. Improvements can only be made through honest feedback and evaluation.
To learn more about teaching and learning outdoors see Edith Sisson's
Nature with Children of All Ages
and Jacqueline Horsfall's
Play Lightly on the Earth
.
Last updated: July 30, 2018