2nd grade - Habitats of Shenandoah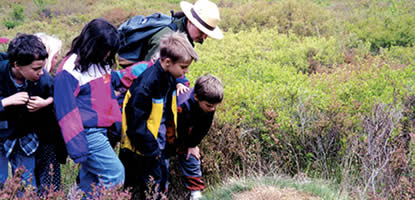 Overview
A habitat is a specific place where plants and animals live. A complete habitat must provide the basic needs, both living and nonliving, for the survival of its inhabitants. Within each habitat, there are many complex relationships as residents strive to meet their needs. Shenandoah National Park offers the opportunity for students to discover and explore nature as they apply and expand concepts and knowledge learned in the classroom. Through hands-on experiences and exploration, students will identify successful habitats and see the interdependencies needed for survival. As human and environmental impacts are evaluated, stewardship behaviors that support healthy habitats will be considered and practiced.
Objectives
Following the park experience and classroom activities, the students will be able to
name the five living and nonliving components of a habitat: air, food, water, shelter, and space - all in a suitable arrangement;


explain the concept of interdependence of organisms in a habitat and name three examples;


identify at least three influences that may change a habitat and determine potential consequences;


explain why Shenandoah National Park is important for protecting habitats and list three ways people can help protect habitats and the environment.
Virginia Science Standards of Learning Addressed:
Strand: Living Systems
2.5 - The student will investigate and understand that living things are part of a system. Key concepts include
a) living organisms are interdependent with their living and nonliving surroundings; and
b) habitats change over time due to many influences.
Strand: Resources
2.8 - The student will investigate and understand that plants produce oxygen and food, are a source of useful products, and provide benefits in nature. Key concepts include
c) plants provide homes and food for many animals.
Last updated: February 26, 2015