Food Storage Regulations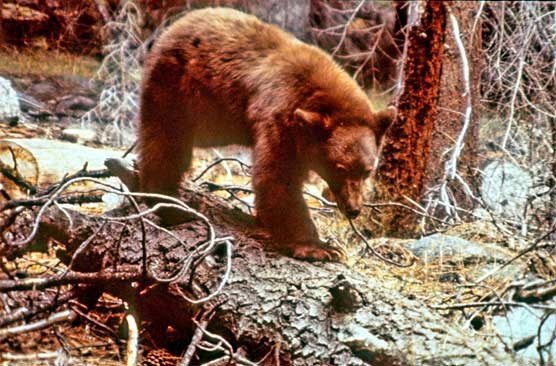 Proper food storage is not only essential to successful human-bear management, it is required legally (36 CFR 2.10(d)). Food includes food, trash, recyclables, toiletries, first aid kits, pet food, window cleaner, baby wipes, scented tissue, air freshener, soda cans, bottled beverages, canned food, coolers (full and empty), mosquito repellant, lipstick, tobacco products, and ANY RELATED ITEMS WITH A SCENT. When camping, baby seats should be taken out of the car and put outside.
Frontcountry
In developed frontcountry campgrounds and other developed areas where food-storage lockers are provided, all food must be stored in the bear-resistant food-storage lockers located in each site or in the overflow lockers nearby.
In front country areas where bear-resistant food storage lockers are not provided: In residences and lodging: all food items must be stored inside the building so that food is not visible from the exterior of the building. In all other areas: all food items must be stored inside a vehicle trunk or, if the vehicle has no trunk, must be placed as low in the vehicle as possible, and covered from sight with the vehicle doors and windows closed.
Persons with hard-topped vehicles that contain built-in refrigerators may store food inside those vehicles, provided it is covered from sight, with the vehicle doors and windows closed. Shades must be drawn when the vehicle is not occupied.
Backcountry
Plan ahead to store your food in one of the following ways, listed in order of effectiveness. Be aware that there are areas of the park with more stringent regulations due to high levels of human-bear interactions and/ or injuries. Those areas are described in the next section.
Rent or buy park-approved bear-resistant food storage containers. Inyo National Forest has developed a canister sheet (downloadable, 28 kb, RTF format) for help on packing a canister effectively. This is the preferred method of food storage in the backcountry. A current list (153 kb Acrobat PDF file - requires free Adobe Acrobat Reader to view) of approved food storage containers is available.
Where available, camp in areas with bear-resistant food storage lockers. Please keep in mind that these are shared with other hikers; locks are not permitted. Never leave anything behind - our backcountry rangers remove hundreds of pounds of garbage from lockers every summer. Be sure to know the locker locations before leaving.
Suspended at least twelve feet above the ground and ten feet horizontally from a tree trunk or other vertical support using the counterbalance method. This method is prone to failure (clever bears, no good trees, etc.) and we recommend against it.
*Don't leave food and containers (ice chests, bags, cans) in cars at the trailhead. You must use trailhead food-storage boxes if they are available. If not, contact a ranger for alternatives. Bears can break into vehicles if they see or smell signs of food.
Special Backcountry Restrictions
SEKI-approved bear-resistant food storage containers with the capacity to store all food are required from the Friday of Memorial Day Weekend through October 31 at the following locations:
Rae Lakes Loop through Paradise Valley to Woods Creek crossing, through the Rae Lakes Basin and the 60 Lakes Basin into the Charlotte Lake area, and south along the Pacific Crest Trail to Forester Pass. Also included are the Bubbs Creek drainage and associated trails and cross-country areas from Kearsarge Lakes and Center Basin to Cedar Grove, and all other drainages feeding Bubbs Creek east of, and including East Creek. This also extends south to the Kings-Kern Divide.
Dusy Basin which includes all camp areas from Bishop Pass to the junction with the John Muir Trail in LeConte Canyon and all cross-country areas in Dusy Basin and Palisades Basin.
Rock Creek drainage west of Cottonwood and New Army Passes, south of Crabtree Pass, south of Goyot Pass, and north-northwest of the Sequoia National Park boundary and Siberian Pass, including Soldier Lake,Miter Basin, along Rock Creek, and Siberian Outpost. All trail corridors and cross-country routes within the area are included in the restriction.
These regulations apply to all groups. Through hikers along the Pacific Crest Trail and the John Muir Trail with a valid wilderness permit must use portable, park approved, bear-proof food storage containers or camp at sites with food storage lockers and use the lockers. Hanging food (e.g. counterbalancing) in restricted areas is prohibited until snow prevents access to food storage lockers.
If a Bear Enters Your Camp
By making loud noises and throwing objects you can often scare bears away before they get to your food. Be bold, but keep a safe distance and use good judgment. Never attempt to retrieve food from a bear. Never approach a bear or get near a cub. Bears are active both day and night. At night and any time you are away from camp, remove all food from your pack and store it properly. Leave your pack on the ground with flaps and pockets open. When you leave an area, take all your garbage with you. If a bear does get your food, you are responsible for cleaning up and packing out all debris, and for reporting it to the nearest ranger.
Note: These regulations and precautions help decrease the chance of personal injury or property damage. However, bear damage and confrontations are still possible, even when all guidelines are followed. All bears in the Sierra Nevada are American black bears, Ursus americanus. This name can be misleading, as they may be black, brown, cinnamon, or even blonde in color. The last grizzly bear (Ursus arctos) in California was killed near Sequoia National Park in 1922. This information does not apply to parks inhabited by grizzly bears.
Additional Information
Counterbalancing Your Food (9 KB, RTF format)
Bear Box Locations (9 KB, RTF format)
Last updated: March 31, 2012