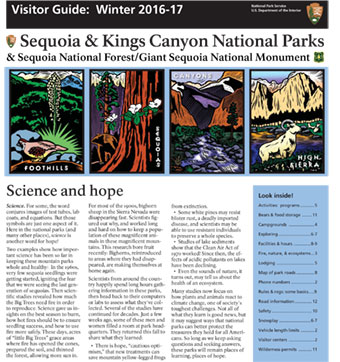 Current Visitor Guide
Late Winter 2016-2017
Page 1 | 2 | 3 | 4 | 5 | 6 | 7 | 8 | 9 | 10 | 11 | 12 | Entire Issue
---
The Visitor Guide offers the most accurate information available at the time it is printed. Changes in schedules, weather, and other conditions after publication may result in inaccuracies in the paper. For the most up-to-date information, please call (559) 565-3341. The Guide is published seasonally five times per year.
When planning a trip, check the most recent issue for the season during which you plan to visit (see links below). This will give you an idea of what may be available at that time of year.
The current issue of the Guide follows the format below. You may choose to view an individual page or select "Entire issue" to download the complete paper.
| Page | Content |
| --- | --- |
| 1 | Table of contents; description of the parks |
| 2 | Phone numbers; visitor centers; partners |
| 3 | Park ecosystem information |
| 4 | Camping in the parks and in nearby Sequoia National Forest |
| 5 | Lodging; programs and tours; Crystal Cave tours |
| 6 | Exploring on your own: Sequoia National Park |
| 7 | Exploring on your own: Kings Canyon National Park and Sequoia National Forest |
| 8 | Facilities in Sequoia National Park; map of the parks |
| 9 | Facilities in Kings Canyon National Park and in Sequoia National Forest |
| 10 | Safety |
| 11 | Bears and food storage; wilderness; entrance fees |
| 12 | Gasoline, driving park roads, road construction and delays |
For Previous issues visit: Park Newspaper Archive