Park Newspaper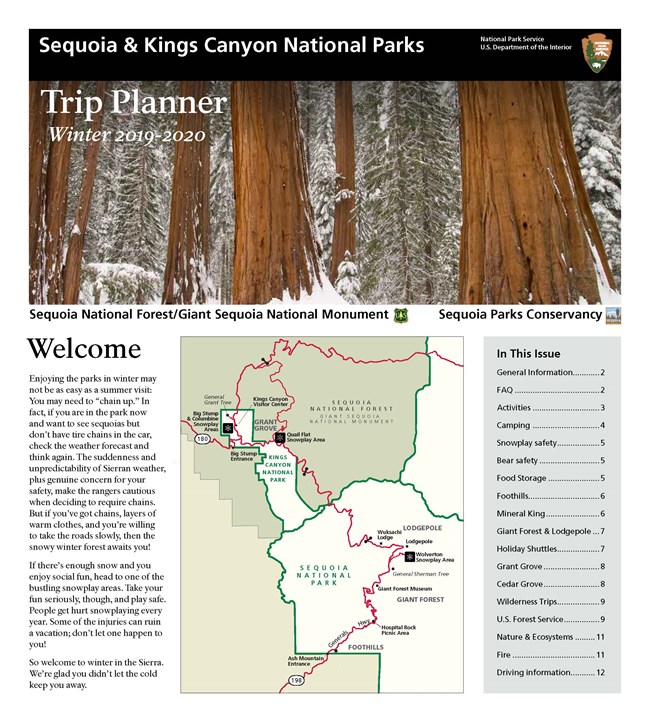 The Guide offers detailed information about park features, facilities, and services to help you plan your trip.
Sequoia and Kings Canyon Visitor Guide—Winter 2019-2020

Page 1 - Welcome and Table of Contents
Page 2 - General Information, FAQs
Page 3 - Activities
Page 4, 5 - Camping
Page 5 - Bear Safety, Food Storage
Page 6 - Exploring the Foothills and Mineral King
Page 7 - Exploring the Giant Forest and Lodgepole, Holiday Shuttles
Page 8 - Exploring Grant Grove and Cedar Grove
Page 9 - Wilderness Trips and U.S. Forest Service
Page 11 - Nature, Ecosystems, and Fire
Page 12 - Driving Information
This visitor guide offers the most accurate information available at the time it is printed. Changes in schedules, weather, and other conditions after publication may result in inaccuracies in the paper. The Guide is published seasonally, at least five times per year.
Past Issues
If you're planning a trip for a different time of year, check previous issues from the most recent season during which you plan to visit. This will give you an idea of what may be available at that time of year.

Fall 2019
Summer 2019
Spring 2019
Winter 2018-19
Fall 2018
Summer 2018
Spring 2018
Winter 2017-18
Fall 2017
Late Summer 2017


Last updated: January 2, 2020