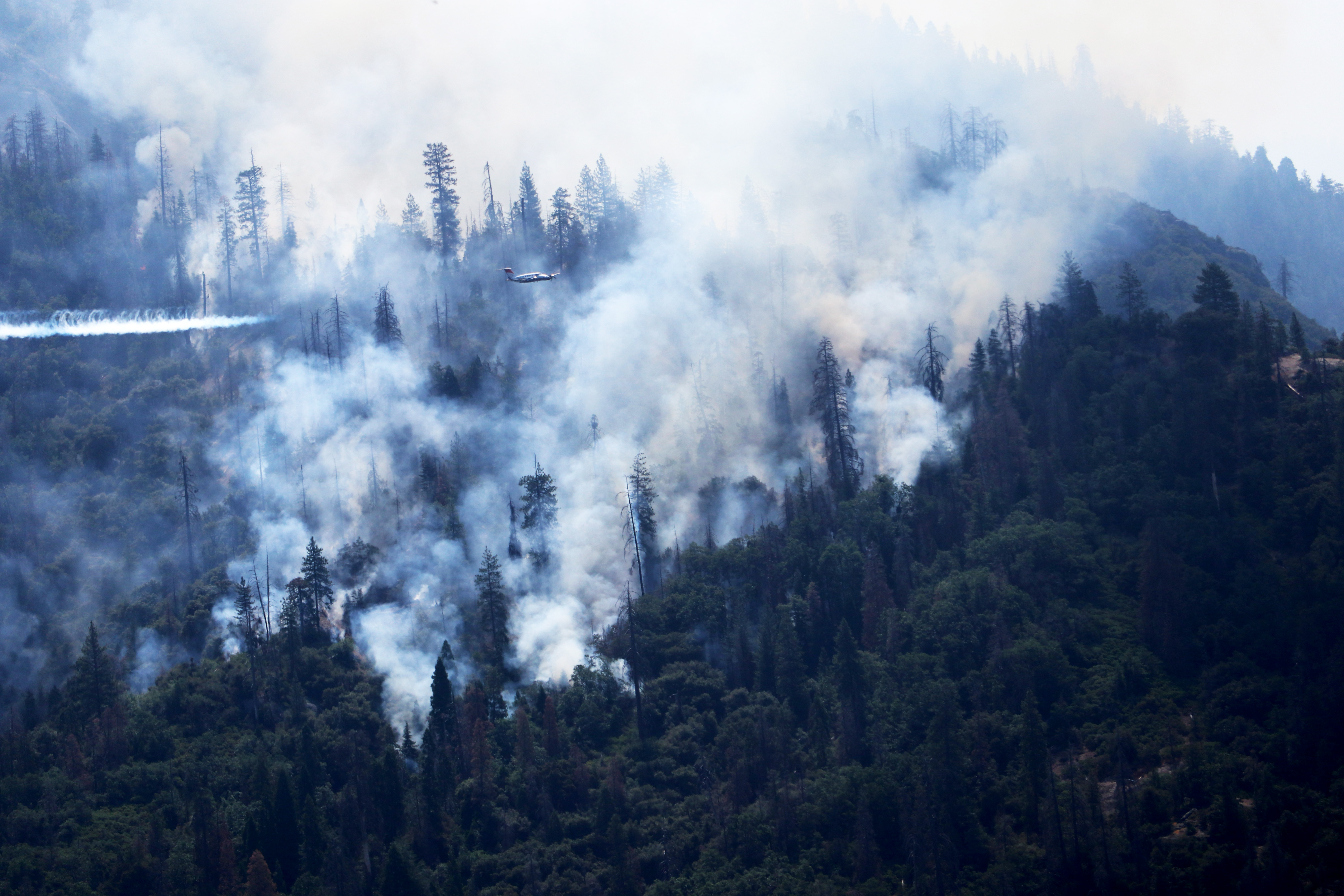 News Release Date:
July 22, 2018
Contact: SEKI Fire Information, 559-565-3704
SEQUOIA NATIONAL PARK,
Calif. July 22, 2018 – Yesterday, the Horse Creek Fire continued to grow, despite increased air operations. The fire is currently 30 acres in size. After use of water drops on the fire showed little effectiveness, air tankers began making fire retardant drops instead. Today, the fire retardant lines held overnight and fire crews are being inserted in to construct direct fireline. Crews cleared a helicopter landing zone near the fire yesterday, allowing for easier insertion of ground crews. At 6:00 p.m. today, a Type Two Incident Management Team is scheduled to assume control of the fire.
Firefighters are taking full suppression action on this fire. Due to the extremely steep terrain, dense forest and brush, large amount of tree mortality, and lack of trail access, this lightning-caused fire poses challenges for ground operations. The fire is highly visible for several miles on the south side of the Mineral King Road, and is burning in wilderness.
The Mineral King Valley is seeing an increased amount of smoke, especially overnight. Due to this and the increased amount of fire personnel traffic on the Mineral King Road:
Effective Monday, July 23, wilderness permit holders will not be able to start any trips until further notice. Walk-up permits will not be issued. Visitors currently on wilderness trips will be allowed to exit as planned.

The Atwell-Hockett Trail and the Tar Gap Trail remain closed.

Mineral King Campgrounds remain open but could close with little notice based on changes in fire behavior, smoke, and air quality.

Only day-hiking is permitted on open trails.
For questions about wilderness permits, please call (559) 565-3766 or e-mail seki_wilderness_office@nps.gov
At this time neither the road nor any structures are directly threatened by the fire, and the road remains open. However, visitors are strongly encouraged to consider recreation options other than Mineral King in order to minimize traffic on the road.
Tulare County offers a free automated alert service that issues notices of unsafe conditions and warnings to residents on the platform of their choice (e.g., SMS, email, landline). To sign up, visit
https://alerttc.com/
For more information on the Horse Creek Fire, visit
https://inciweb.nwcg.gov/incident/5984/
.
-NPS-