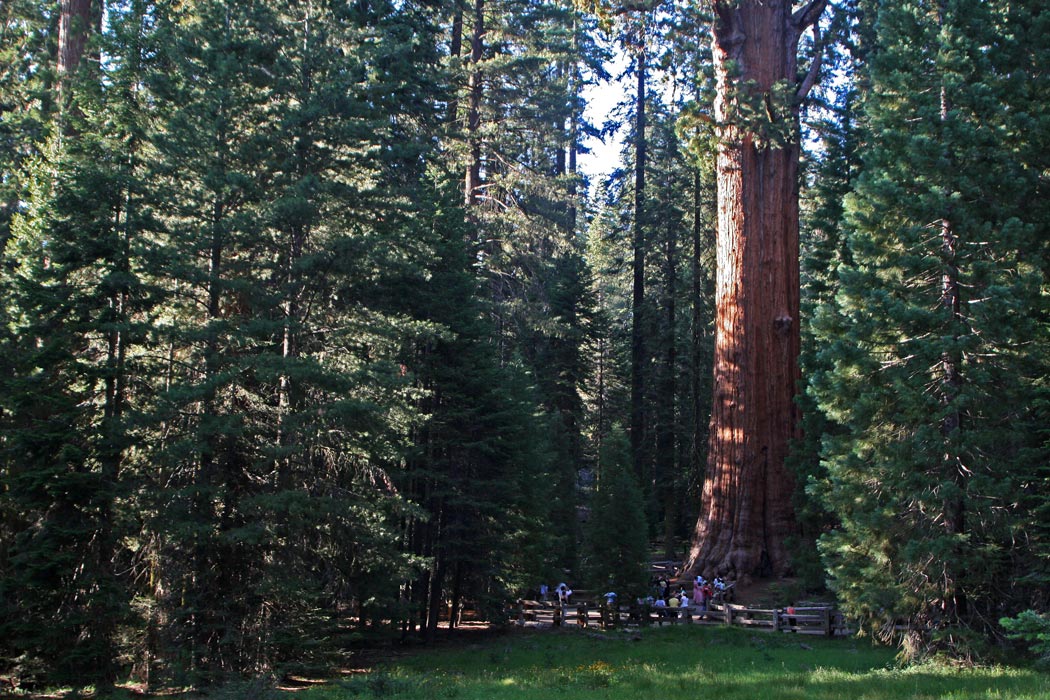 News Release Date:
August 31, 2016
Contact: Dana Dierkes, 559-565-3131
Celebrate Labor Day Weekend and fall at Sequoia and Kings Canyon National Parks. Before you arrive, check the parks' website at www.nps.gov/seki for updates. Here are a few tips for a fun and safe visit to the parks--
Campgrounds:
-- First-come, first-served camping at Sequoia and Kings Canyon National Parks is expected to be very limited and fill early over the holiday weekend. In addition, some campgrounds will start to close for the season just after Labor Day. More info: www.nps.gov/seki/planyourvisit/campgrounds.htm.
-- Permits are required for overnight trips in wilderness in summer--www.nps.gov/seki/planyourvisit/wilderness_permits.htm.
Parking / Shuttles: 
Parking will be very limited in the parks during the Labor Day holiday weekend. Come early to avoid long lines and to secure a parking space. Consider using the free shuttle inside the parks or riding a shuttle into the park from a local community.
--
Parking in Sequoia National Park:
For example, parking spots in the most popular area of Sequoia National Park (Giant Forest) usually fill by 10:00 a.m. each day on a holiday weekend. Consider parking at Wuksachi Lodge (overflow lot), Lodgepole Campground (overflow lot), Dorst Creek (amphitheater parking), or Wolverton Picnic Area and taking the free shuttle to other sites.
--
Sequoia Shuttle:
The Sequoia Shuttle operates seven days a week—inside and from outside Sequoia National Park—through September 11, 2016. From Outside the Parks: A round-trip ride from outside the parks costs $15.00 and covers the park entrance fee. All shuttle buses are wheelchair-accessible and stroller-accessible. Visit www.sequoiashuttle.com or call 1-877-BUS-HIKE. Once at the Giant Forest Museum, you can ride the free in-park shuttles—www.nps.gov/seki/planyourvisit/parktransit.htm.
--
Parking in Kings Canyon National Park:
Parking is extremely limited in Kings Canyon National Park's Grant Grove area this summer due to restaurant construction. Park your car in the Big Stump Picnic Area or leave it at your hotel or campground if staying in the parks.
--
Big Trees Transit:
Through September 5, 2016, Big Trees Transit offers shuttles from the cities of Fresno, Sanger, and Squaw Valley to Kings Canyon National Park. This shuttle serves the Grant Grove area—including the Grant Grove Market, John Muir Lodge, Grant Tree Trail, and Big Stump Picnic Area. Reservations are required to ride from outside the park—1-800-325-RIDE (7433)--www.nps.gov/seki/planyourvisit/parktransit.htm.
River Safety:
Don't let their beauty fool you...rivers can be deadly! Drowning is the #1 cause of death at Sequoia and Kings Canyon National Parks. Most drownings happen from May through August.
 -- Even when temps in the Central Valley are hot, river water is extremely cold, as it comes from melting snow in the mountains. Cold water quickly induces hypothermia--which dramatically reduces your ability to react in an emergency.
-- Many drowning victims have fallen in accidentally on slippery rocks at the river's edge or have been carried away by currents, which are especially strong in spring.
-- Never swim or play by the river alone.
-- Watch children carefully—drowning occurs without a sound.
-- Stop by a park visitor center to inquire about river conditions before going in the water and heed the advice for your safety.
Crystal Cave:
The cave is expected to be open through November, weather-permitting. From March to mid-October, tickets for Crystal Cave can purchased at www.recreation.gov. There are no online ticket purchases from October through November—tickets must be purchased at the Foothills Visitor Center or Giant Forest Museum. Purchasing tickets online at least 30 days in advance is recommended. Occasionally, tickets may be available each day for purchase at the Foothills or Lodgepole visitor centers. You must have tickets BEFORE arriving at the cave. Crystal Cave is managed by the Sequoia Parks Conservancy—www.explorecrystalcave.com.
Food Service/Markets:
For information about hours and opening/closing dates for food service and markets inside of the parks, please visit www.nps.gov/seki/learn/news/newspaper.htm. Note: Food service at King Canyon National Park's Grant Grove Village is limited as a new restaurant is being built: pizza, burgers, BBQ, etc.
Lodging (Inside and Outside the Parks):
Info: www.nps.gov/seki/planyourvisit/lodging.htm
Visitor Centers:
Hours vary—www.nps.gov/seki/learn/news/newspaper.htm. Gas: Gas is not available inside Sequoia and Kings Canyon National Parks.
Upcoming Activities and Events:

-- Ranger-led programs--www.nps.gov/seki/planyourvisit/rangerprogsched.htm.
-- To learn more about the 100th anniversary of the National Park Service, visit www.nps.gov/seki/learn/news/index.htm.
Fee Free Days:
No entrance fee is needed to visit the parks on following days listed below. Fees for camping, reservations, concessions, and fees collected by third parties still apply.
-- Sept. 24, 2016 - National Public Lands Day
-- Nov. 11, 2016 Veterans Day
-- Dec. 11, 2016 Celebration of the Nation's Christmas Tree (Free entrance at Sequoia and Kings Canyon National Parks only)
 –NPS –