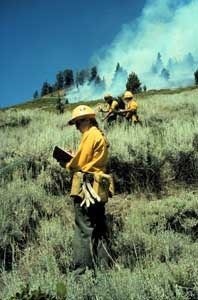 Restoring natural fire regimes is an important component of maintaining park ecosystems for the enjoyment of future generations. A fire regime is defined according to fire characteristics such as intensity, frequency, severity, season, extent, duration, behavior, spatial distribution, and type of fire.
Most of the vegetation communities in the parks have adapted to fires that have occurred for at least the last several thousand years. While the habitat and life cycles of many plants and animals rely on the rejuvenating process of fire, the size, frequency, and timing of these natural fires varies depending on such factors as vegetation community, topography, and climate.
A program to better understand fire regimes prior to European settlement and to monitor the effects of fire's reintroduction is designed to provide the best available information to park managers in their efforts to restore and perpetuate fire as a process. This program includes fire history research (see below) to better refine our knowledge of where, when, and how fires burned in the past so that managers can better emulate historic fire regimes where possible.
This fire study is coupled with a long-term fire effects program to study changes in fuel load, vegetation structure, and composition resulting from prescribed fire, which is critical for assessing the progress of the parks' effort to reintroduce fire.

Visit the Fire Information Cache for more detailed information on fire-related research and monitoring in Sequoia and Kings Canyon National Parks and the Fire Effects Information System for information about the effects of fire on plants and animals throughout the USA.