Visiting After the KNP Complex Fire-Frequently Asked Questions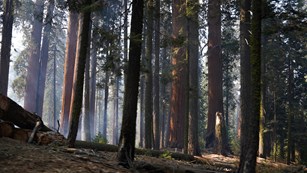 Visiting Kings Canyon After the Fire
Looking for trip ideas as we reopen the parks? Check here for information about what's open and available.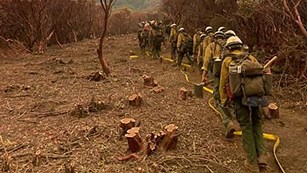 KNP Complex Fire Overview
Learn in depth about KNP Complex management, including priorities, firefighting tactics, fire timeline, and long-term emergency response.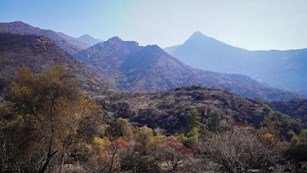 Visiting Sequoia After the Fire
The diverse foothills area offers a large-scale view of fire effects. To see sequoia groves, visit Kings Canyon via Highway 180.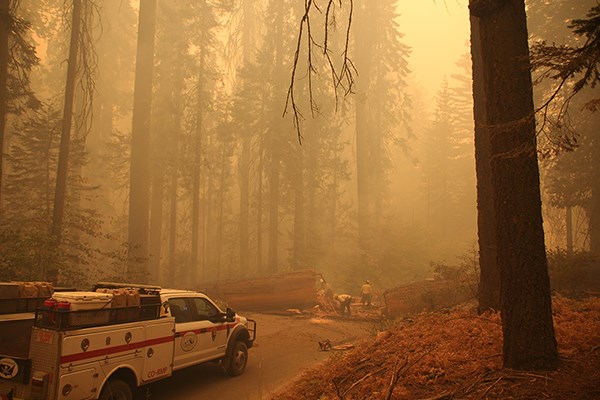 Updated January 20, 2021

Information on this page is limited to trip planning information. Visit the parks' KNP Complex Fire Information web page, which has information on fire history and long-term management plans.

What general areas of the parks are closed at this time?
The Lodgepole, Cedar Grove and Mineral King areas remain closed at this time. The Mineral King and Cedar Grove areas typically closes in fall/winter for the season, and will not reopen this year. Check our current closure map for the boundaries of the closures in Sequoia and Kings Canyon National Parks.

What general areas are open?
You may visit the Grant Grove area of Kings Canyon National Park and the Foothills area of Sequoia National Park (between the entrance station and Hospital Rock) 7 days a week. Camping is permitted in Potwisha and Azalea campgrounds.

The Giant Forest and Wolverton areas are typically open Fridays - Mondays for day use, 8:00 am to sunset, with a gate at Hospital Rock opening and closing at these times.

It is always advisable to check weather and current road information before visiting the parks during winter months. For the most current road conditions, including information about tire chain controls, call the parks' recorded line at (559) 565 3341, press 1, and then press 1 again.

How do I get to the sequoia trees?
If you'd like to see sequoia groves, visit the Grant Grove area of Kings Canyon National Park 7 day per week, or visit Sequoia National Park's Giant Forest when on weekends.

What parts of Kings Canyon National Park are open?
Grant Grove area, General Grant Tree Trail, Big Stump and Columbine picnic areas, Kings Canyon Visitor Center (exhibits, and theater remain closed), Sequoia Parks Conservancy Park Store, Grant Grove Market, and Grant Grove Post Office

What parts of Sequoia National Park are open?
On weekdays, the Generals Highway will be open from Ash Mountain Entrance Station on Highway 198 to Hospital Rock Picnic Area, six miles into the park. Features and facilities open include:
On Friday - Monday, you can visit the Giant Forest and Wolverton areas between 8 am and sunset. Features and facilities that will be open include:
Giant Forest Museum, Beetle Rock, Sunset Rock, Big Trees Trail, Hazelwood Nature Trail, General Sherman Tree, Congress Trail, and Wolverton Picnic and Snowplay area

Can I drive between the parks?
At this time, there is no travel between the two parks. Enter Sequoia from the entrance station on Highway 198 at Three Rivers, CA. Enter Kings Canyon from the entrance station along Highway 180 near Squaw Valley, CA.

Where can I get information about road conditions?
To check park road conditions, please call 559-565-3341, press 1, then 1 for the latest road report and info on temporary chain restriction or closures.

What wilderness areas are open? I'm planning to go backpacking in the park this fall.
Self-issue wilderness permits are available for areas overnight backpacking in areas that are open. Follow this link for a complete closure map of areas closed due to wildfire activity. Open and closed areas in the wilderness of Sequoia National Park are still being decided on and this map may not be up to date.

Wilderness permits are free at this time of year. Please visit the nearest self-issue permit station for a permit. Bear in mind that some trailheads are not reachable by vehicle. Others trailheads are closed for trail exit. Please make sure you enter and exit trailheads found in open areas. Trails in the Lodgepole, Mineral King, and Redwood Canyon remain closed.

Wilderness trail access for overnight trips is extremely limited in both Sequoia and in Kings Canyon from the Generals Highway. Trails remain accessible from the east side of the parks. National Forest trails may be closed; check Sequoia National Forest's website for details. Backpackers will need to be prepared to self-rescue in the event of an emergency. We may not have resources or access to provide emergency services in park wilderness at this time.

Are any services in the parks available?
Kings Canyon and Foothills visitor center information desks, and Sequoia Parks Conservancy Park Store (books, educational items, clothing, gifts) are open 7 days a week
Giant Forest Museum and Sequoia Parks Conservancy Park Store is open on select days (see schedule above)
Grant Grove Market
Grant Grove Post Office
Other markets, restaurants and gift shops remain closed at this time.

I heard there isn't drinking water in the parks. What can I expect?
Because drinking water is not available in all areas, visitors should plan to bring all the water and food that they will need during their visit.

I'm planning to visit to the parks in the near future. Will there still be closures?
We are working to restore access to areas closed by the fire as quickly as we responsibly can. We continue to mitigate risks, get employees back into their homes, and contend with the obstacles posed by the winter season, but we're working to reopen in stages. Please keep checking our social media posts and web pages for updates.

I have reservations for lodging at Wuksachi Lodge or John Muir Lodge. What should I do?
John Muir Lodge and Grant Grove Cabins, as well as Cedar Grove Lodge are now closed for the season. Wuksachi Lodge is still closed due to the fire. For existing reservations at Wuksachi Lodge, please contact Delaware North at (866) 807-3598 for reservation support.

Is camping available?
Azalea and Potwisha campgrounds are open on a first-come, first-served basis. At Azalea Campground, expect sites to be snowy this winter. At Potwisha Campground, please pay for one night at a time. The campground may close at any time due to weather, road closures, or other conditions and refunds annot be issued.

Is Crystal Cave open? Is the cave and the cave access trail at risk of burning?
The cave is closed for the 2021 season. The KNP Complex fire burned through the Crystal Cave area. Initial assessments suggest that there was no damage in the cave, but the trail between the parking area and the cave entrance may require some work.

Are neighboring forests open?
Before you visit, please check the websites for Sequoia, Sierra and Inyo national forests.

What caused these fires?
All fires in the KNP Complex, including the Paradise, Colony, and Cabin fires, were ignited by lightning on Thursday, September 9, 2021. The Paradise and Colony fires have now merged.

How many fires are active in the park this winter?
Only this fire, known as the KNP Complex Fire, is currently burning in the parks.
Last updated: January 20, 2022