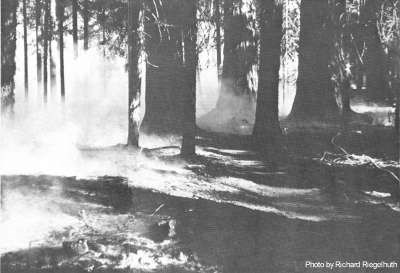 By BRUCE KILGORE
Originally published in National Parks & Conservation Magazine, Vol. 44, No. 277, Oct. 1970: 16-22
A crowd was gathered around the information desk at Grant Grove visitor center when the young man arrived. He walked quickly across the room and with a determined effort edged his way to the counter."Ranger," he interrupted, "I was just down at the Redwood Mountain overlook. We saw a lot of smoke coming out of that sequoia grove. There must be a fire."
Ranger Hefti glanced at his watch. A little after noon. "Pete's right on time," he thought to himself. But to the young tourist he said, "We appreciate your telling us about any fires you see in the parks, sir. But in this particular case, we know about the fire - you see, we started it."
Then, while a sizeable group of park visitors gathered arorrund, Ranger Hefti told a story about sequoias and fire - a story that rangers and naturalists at Sequoia, Kings Canyon, and Yosemite National Park have begun to learn by heart.
The rangers' reeducation of visitors to the importance of periodic, controlled fires is an outgrowth of the National Park Service's own reevaluation of how best to preserve sequoia groves. For, like the park visitors, most of whom are now conscientious followers of Smokey the Bear's admonitions to prevent fire, early park officials were dedicated to a policy of total fire suppression in order to preserve the forests as they found them. In 1865, just one year after Yosemite was set aside as a state park, Frederick Law Olmsted was worried about the damage caused by fires sweeping upon the Mariposa Grove of sequoias each year from adjoining country. And early administrators wanted to construct fuel breaks to stop fire from entering the grove.
The logic of this early policy is easy to understand. The administrators were charged with preserving a forest, and so they stopped forest fires. These first custodians can be forgiven if they did not realize the living, moving nature of the sequoia groves. One's initial impression of them is of immensity, timelessness, changelessness. But sequoias are changing, living things. Through the aeons they had known fire and had learned to live with it. There are huge, charred scars on the trunks of many mature sequoias, evidence of past fires, but few large sequoias appear to have been killed by fire. Research has shown, in fact, that periodic light fires have played an important role in the life of the forest.
Careful observers have pointed out the importance of distinguishing among various types of fires and their effects. Early descriptions of the Sierra Nevada by John Muir, Galen Clark, and others lead to the conclusion that these forests apparently were subject to frequent ground fires that made them practically immune to crown fires. The low ground fires tended to rid the forest floor of thickets of small trees and the accumulation of branches, cones, needles, and humus. By clearing away these high fuels, ground fires also lessened the likelihood of huge sheets of fire that could kill mature trees by destroying the top foliage, or crown. While on his famous trip through most of the sequoia groves in 1875, John Muir saw a fire approach and enter a grove of giant sequoias in September, the driest time of year:
"The fire came racing up the steep chaparral-covered slopes... in a broad cataract of flames.... But as soon as the deep forest was reached, the ungovernable flood became calm like a torrent entering a lake, creeping and spreading beneath the trees.... There was no danger of being chased and hemmed in, for in the main forest belt of the Sierra, even when swift winds are blowing, fires seldom or never sweep over the trees in broad all-embracing sheets as they do in the dense Rocky Mountain woods and in those of the Cascade Mountains of Oregon and Washington. Here they creep from tree to tree... allowing close observation...."
Early superintendents at Sequoia National Park recognized the growing fire hazard resulting from fire suppression, and a few attempted to remedy the situation. One area was lightly burned over in 1904 to remove "coniferous rubbish." In 1918, more than 100 acres of the main groves were cleared of inflammable fallen trees, stumps, and brush.
These early attempts to preserve the fire process, however, were cut down by critics who said, "You don't know enough to make sound decisions on this type of management, and stopping all fires is less expensive anyway." As a result, total suppression of fires became National Park Service policy for nearly 40 years.
Sporadic criticism of this policy had little effect until 1955, when a disastrous wildfire swept up from the McGee ranch west of Grant Grove. Within a short time the McGee fire had devastated more than 13,000 acres of brush and forest and had threatened the Grant Grove sequoias. Soon thereafter, studies and publications by Dr. Harold H. Biswell, Dr. Richard J. Hartesveldt, and others began to point up the threat to mature sequoias posed by continued fire suppression. The document of greatest significance to Park Service policy was the Leopold Report of 1963 (National Parks Magazine, April 1963) which pointed out that "much of the west slope [of the Sierra] is a dog-hair thicket of young pines, white fir, incense-cedar, and mature brush a direct function of over-protection from natural ground fires." The report suggested that "A reasonable illusion of primitive America could be recreated, using the utmost in still, judgment, and ecologic sensitivity." This report has been largely adopted as Park Service policy, bringing about a major reorientation in attitudes toward fire suppression.