Moro Rock and Crescent Meadow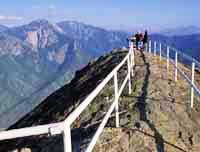 The 1996 Interim Management Plan called for the Moro Rock and Crescent Meadow road to be closed to summer vehicular traffic, accessible only by shuttle, bicycle, on foot, or by vehicles for visitors with disabilities. In 2007 the
Sequoia Shuttle
began operating on the Moro Rock and Crescent Meadow road, with the road remaining open to summer vehicular traffic during a pilot period. A road resurfacing project is planned for fall 2007 to improve this deteriorating road.
Climbing the 400 steps fitted into Moro Rock for a panoramic view of the high Sierra and canyons is a favorite visitor activity. Improvements have been made to accommodate a
shuttle bus
at the base of Moro Rock.
Sierran montane meadows are an integral part of the Giant Forest ecosystem.
Crescent Meadow
is one of the larger meadows in Giant Forest, and is a popular anchor for hiking opportunities. It is also a gateway for hikers of the high Sierra trails. Planned improvements to relocate picnicking away from the meadow, remove much of the parking and provide a shuttle loop, restore disturbed areas, and improve accessibility to visitors with disabilities have been deferred for lack of funding.
Last updated: March 1, 2015