General Sherman Tree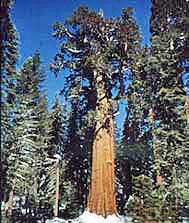 The General Sherman Tree, the world's largest tree, is the prime visitor attraction in Giant Forest. Visitors now reach the General Sherman Tree from a new parking area and trail located off the Wolverton road in a former dump site outside of the sequoia grove.
The new trail to the General Sherman Tree provides a better opportunity to see and appreciate the tree and its setting than was previously available from the crowded parking lot and short trail.
In fall 2005, the former parking lot was demolished and restored to natural conditions, providing an enhanced setting for the tree and returning 2.5 acres to forest. An accessible parking area, trail and shuttle drop off were retained adjacent to the Generals Highway. New comfort stations were built at the main Sherman Tree parking area and the accessible parking area. Construction began in June 2001 and was completed in spring 2006.
Last updated: March 1, 2015