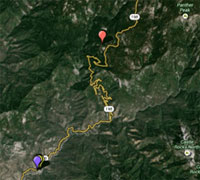 The California Phenology Project (CPP) was launched in 2010 as a three year pilot program to create long term monitoring and public education activities throughout California. As a part of the CPP, Sequoia National Park monitors four plant species within the park. Data is collected regularly and entered into the National Phenology Network (NPN) database.
Around the Foothill Visitor Center, park staff and volunteers monitor blue oak and California buckeye. In the Giant Forest, greenleaf manzanita and mountain pride is monitored. Weather stations at each monitoring site provide site-specific climate data, which can be compared to variation in phenological observations.
Click the images below to learn more about each species!