Greenleaf Manzanita

(Arctostaphylos patula)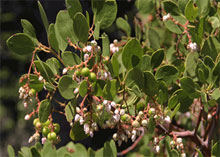 Greenleaf Manzanita Habitat
Greenleaf manzanita, with striking red bark, grows at middle to upper elevations within the parks. Climate at these elevations are characterized by moderate summer temperatures and cold, snowy winters.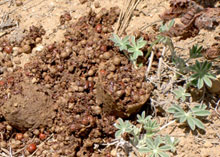 Why monitor greenleaf manzanita?
The fruit of the manzanita is an important food source for bears, birds and other wildlife. Changes in weather and climate may influence the production of manzanita berries and when they are available.
Manzanita flowers are pollinated by the virbrating wings of insects seeking nectar. If pollinators are not available when manzanita blooms, because of changes in temperature or precipitation, then this important food source may become scarce.