Lesson Plan
How to Read a Skull like an Open Book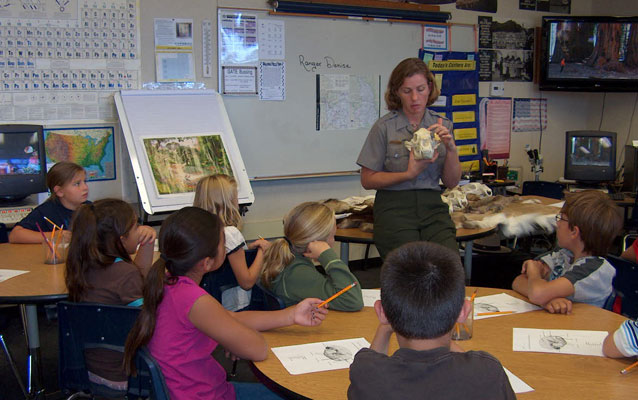 Grade Level:

Third Grade-Fifth Grade

Subject:

Biodiversity, Biology: Animals, Conservation, Ecology, Environment, Regional Studies, Science and Technology, Wildlife Biology

Duration:

1 hour

Setting:

classroom
Overview
Students will become scientists by using clues to identify animal skulls from the parks.  Students will discover food preferences and learn about the teeth and skulls of many animals through observation, problem solving, and deduction skills.
Materials
To sign up for this Rangers in the Classroom program, please fill out the request form and email to ritc_seki@nps.gov, or fax to 559-565-3730.

Extensions
These pre- and post-program lesson plans will enhance and expand the learning experience of the Rangers in the Classroom Programs for your students. Download any of these standards-based lesson plans for your class, and please do email ritc_seki@nps.gov with any feedback on improving these lessons.
Skulls 3rd Grade Pre- and Post-Visit Activities: Word Search, Skull Parts, Math, Vocabulary
Skulls 4th Grade Pre- and Post-Visit Activities: Skull Parts, Math (coming soon), Word Search, Vocabulary
Skulls 5th Grade Pre-Visit Activity
Skulls 5th Grade Post-Visit Activity (coming soon)