Lesson Plan
The Bear Essentials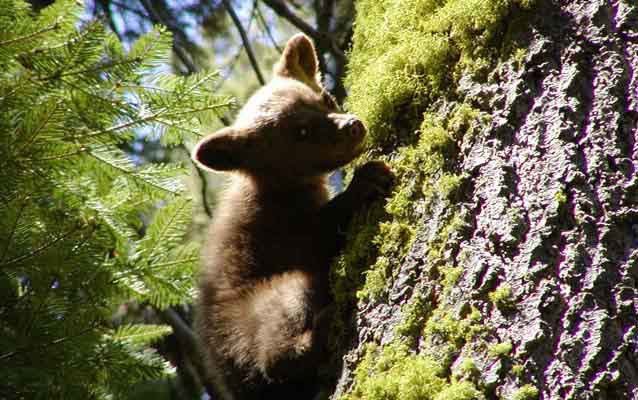 Grade Level:

First Grade-Fourth Grade

Subject:

Biodiversity, Biology: Animals, Community, Conservation, Ecology, Reading, Wildlife Biology, Wildlife Management

Duration:

1 hour

Setting:

classroom
Overview
The Bear Essentials program introduces students to the American Black Bear through stories and games, improving student understanding of black bear habitat, diet, and life cycle. It also explains how human activity can have a negative impact on a bear's natural behavior. 
Materials
To sign up for this Rangers in the Classroom program, please fill out the request form and ritc_seki@nps.gov, or fax to 559-565-3730.
Extensions
These pre- and post-program lessons will enhance and expand the learning experience of the Rangers in the Classroom Programs.  Download any of these standards-based lesson plans for your class, and please do email ritc_seki@nps.gov with any feedback on improving these lessons.
Bear Essentials 1st Grade Pre-Visit Activity
Bear Essentials 1st Grade Post-Visit Activity
Bear Essentials 2nd Grade Pre-Visit: Activity 1, Activity 2
Bear Essentials 2nd Grade Post-Visit:Activity 1, Activity 2
Bear Essentials 3rd Grade Pre-Visit: Activity 1, Activity 2
Bear Essentials 3rd Grade Post-Visit: Activity 1, Activity 2
Bear Essentials 4th Grade Pre-Visit: Activity 1, Activity 2
Bear Essentials 4th Grade Post-Visit: Activity 1, Activity 2
Bear Essentials 1st and 2nd Grade Lesson Plan (Ranger Program)
Bear Essentials 3rd and 4th Grade Lesson Plan (Ranger Program)
Last updated: January 23, 2018