Backyard and Schoolyard Phenology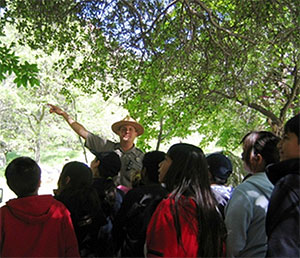 We need your help! Document phenological changes in your backyard or schoolyard. The earth is too big for scientists to track all species across the globe. You can help by monitoring your favorite plant, animal, or insect species as a citizen scientist.
If you are a teacher, you can invite a ranger to help get your class started with phenological monitoring as part of the Rangers in the Classroom program.

Just follow these simple steps to start monitoring:


Pick a site and species – You can find a species to monitor by visiting Nature's Notebook. Species can be sorted by location or name. If you don't have a particular species in mind, you can browse them by categories.


Learn how – After selecting a species on Nature's Notebook, you will be directed to a webpage that describes the phenophases for that species. Use these instructions to monitor your species and complete the datasheet, which is available for download by clicking the 'Datasheet' icon.


Collect – Monitoring should occur at least once a week, but the more often the better. It is especially important to monitor frequently when phenophases are expected to begin or end. For example, if you are expecting your plant species to bloom or shed its leaves soon, then you may choose to monitor daily.


Share – The data you collect becomes extremely powerful when you make it available to others. After registering with Nature's Notebook, you can share data from your datasheet – or you can use your mobile device in the field to record and share your observations.