California buckeye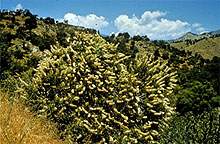 California Buckeye Habitat
The California buckeye is a native deciduous tree that lives in the foothills of Sequoia National Park, which experiences a drier and warmer climate than the higher elevation habitats where sequoia trees are found. It has adapted to the Mediterranean climate of the foothillls by blooming in the wet winter and becoming dormant by the hottest summer months to avoid moisture loss.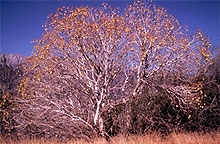 Why monitor the California buckeye?
The buckeye is a dynamic species for phenological monitoring because its life cycle stages are sensitive to changes in weather and climate. For example, the buckeye is one of the first plants to produce new, delicate leaves around February, and one of the first to shed leaves at the onset of hot, dry weather.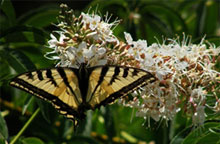 The nectar of the California buckeye flowers is an important food source for native insect species. During its flowering period a host of beetles, bees and butterflies can be seen drinking nectar. Changes in the timing and duration of flowering may impact these species.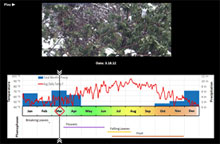 Since late 2010, we have been taking daily pictures of the same California buckeye tree. These pictures have been assembled with climate data from our weather station into an interactive time-lapse tool. Click here to check it out.