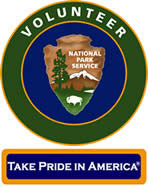 Volunteers-In-Parks Mission
The mission of the Volunteer-In-Parks (VIP) program at Sequoia and Kings Canyon National Parks is to involve individuals and groups in the preservation and enhancement of the park's resources in an atmosphere of respect and cooperation. The program will provide training for growth in job performance while fostering commitment to National Park Service goals and recognizing the contributions of all park volunteers.
Core Values of the VIP Program
| | |
| --- | --- |
| Cooperation | We will create and maintain partnerships with volunteers representing local, national, and international organizations. |
| Commitment | Our program will foster long-term dedication and dependability by our volunteers. |
| Enjoyment | Park staff will create and maintain a positive and pleasant work environment. |
| Flexibility | We will manage a variety of volunteer projects and collaborate in switching priorities when necessary to assure identified outcomes. |
| Fulfillment | Volunteers will be treated as members of the park team with a parkwide perspective and voice. Park staff will provide meaningful work that allows for personal growth/satisfaction and measurable outcomes. |
| Integrity | We will focus on sound programs with high standards and clear commitments to our volunteers. Within our parkwide Volunteer program we will build pride and stress personal responsibility |
| Lifelong Learning | We recognize the importance of continually providing training to improve our volunteers' knowledge of the resource, sharpen skills and increase effectiveness. |
| Open-minded | We will focus on a creative work environment that promotes an approachable staff and volunteers who exemplify a "Can Do Attitude." |
| Respect | We will recognize everyone as an individual. We will accept each person as a valued team member while acknowledging and appreciating cultural differences and varying abilities. |
| Recognition | We will acknowledge our volunteers with sincere appreciation for their contributions. We will be sensitive to their individual needs. |
Who can be a VIP?
Anyone can be a VIP. Individuals, couples, families, students, and organized groups can volunteer. Those under 18 years of age may volunteer with the official, signed permission of a parent or guardian. We welcome Volunteers-In-Parks from all over the United States and the world.
What do VIPs do?
Volunteers-In-Parks play an ever-increasing role in national parks doing a variety of jobs. Here is a sampling of volunteer activities at Sequoia and Kings Canyon National Parks:
Working at an information desk answering visitor questions
Building fences, painting buildings, and making cabinets
Giving guided nature walks and evening campfire programs
Assisting with preservation of museum artifacts
Maintaining trails and building boardwalks
Designing computer programs or park websites
Assisting with plant removal and/or propagation
Working as a VIP
As a VIP you will represent the National Park Service, work in unique settings, preserve this country's natural and cultural legacy, and help visitors discover the resources, meanings, and values found in your national parks. Based on your job assignment, you may wear an official volunteer uniform. Park housing and reimbursement for out-of-pocket expenses may also be available. You will be covered for worker's compensation in the event of an injury while on duty and, in the event of property damage or personal injury, you will be covered for tort claim liability. Volunteer time can be counted as work experience for future jobs, but does not count towards Federal Civil Service time if you should later become a Federal employee.