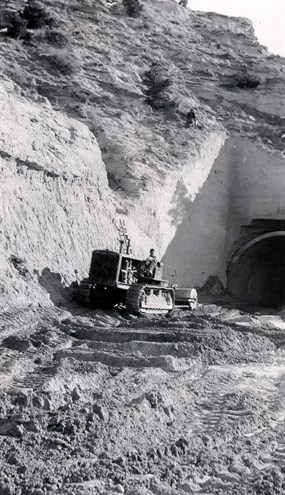 On March 28, 1914, an inquiry was made to the Department of the Interior about the possibility of establishing a National Monument at Scotts Bluff. Two years later a second attempt was made, which coincided with the establishment of the National Park Service on August 5, 1916.
Not having received a positive response from the federal government, concerned citizens submitted a petition to the National Park Service on October 5, 1916, in which they urged that a national monument commemorating the Oregon Trail be set aside. In March of 1918, a second petition was submitted, and their persistence paid off. On December 12, 1919, Woodrow Wilson signed a Presidential Proclamation, which officially established Scotts Bluff National Monument.
The monument's first Superintendent, or as their were called in those days, "Custodian," was Will Maupin, editor of the Gering Midwest newspaper. He served from 1920 until 1924 at a salary of $1 per month. With the aid of donations, Maupin was able to construct a picnic area at the base of the eastern face of the bluff. He was also able to make improvements on a hiking path to the summit, and was the first to suggest that a paved road to the summit be built, along with what he termed an "amusement resort".
The monument's second Custodian was Albert Mathers, President of the Gering National Bank, and he served from 1925 until 1934. Thanks to his energetic leadership, in 1926 new tables were added to the picnic area. Using the labor of local Boy Scouts, a new hiking path from the picnic area to the summit, which came to be known as the Zig-Zag Trail, was completed in June of 1927.